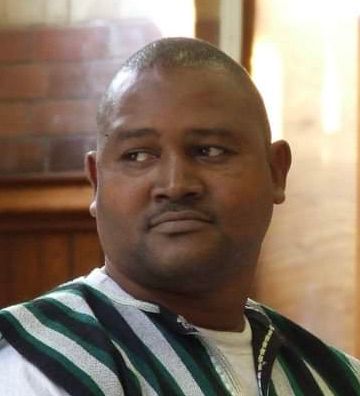 Summary: In 1992, Sierra Leone journalist Sammy Haffner was captured and jailed for a month by the military who had just staged a government coup. Undaunted, upon his release, he helped form a huge network of radio stations in Southern Sierra Leone, exposing false news, campaigning for free speech, and standing up for his fellow journalists. But standing up to a military regime is not easy: Haffner has received nine death threats and even once had to escape to neighboring Guinea after a second military coup. Throughout all that, he has continued to provide a voice for the citizens of his country.
Profile: Sammy Haffner is one of the top journalists in Sierra Leone. In addition to facilitating a network of radio stations, he has also served as Vice-President of the Sierra Leone Association of Journalists (SLAJ), which promotes freedom of the press and strives for the welfare, protection, and training of its membership. But this path has been strewn with dangers.
Haffner remembers vividly his first job as a disc jockey and announcer with ABC Radio in Freetown: "I was looking for a platform where I could use my voice as a check to misinformation and disinformation that characterized the Sierra Leone civil war that broke out in March 1991, leading to loss of thousands of lives."
That particular platform didn't last long. On April 29, 1992, he was captured at gunpoint by military officers who earlier in the day had carried out a successful coup against the government of Sierra Leone. Haffner was ordered to play a certain revolutionary song that they handed over to him. Then they threw him in jail for a month; he couldn't even see his family.
A year after his release, Haffner decided to move to Bo, Southern Sierra Leone, to work with a local broadcaster—Kiss FM 104. This part of the country was also suffering from unrest as a result of the war. Haffner used his new media platform to speak up against false news peddled across the region while providing an authentic voice for the safeguard of lives and properties. "When we first began our broadcast in 1993," he says, "we were keen to putting an end to misinformation and to putting the South and other parts of the country on a pedestal of safe and sound news dissemination with a view to ensuring peaceful co-existence."
Being the sole DJ with the newly established and only radio station in Bo at that time, Haffner began rising in the ranks. After 10 years as a DJ, he became commercial manager for the station while still remaining an active broadcaster.
To say the least, the Sierra Leone government has not always been in concert with Haffner's goals. In 1997, Haffner escaped to neighboring Guinea after a second military regime took control of the seat of government. "Many of my colleagues had bitter experiences with the rebels and military," Haffner recalls. "I could have been killed if found, but I managed to escape."
Today, Haffner reports for various news outlets in Sierra Leone, including a network of 50 community radio stations known as Independent Radio Network. He has exposed corruption, rapes, domestic violence and other abridgments of human rights. In his role as Vice President of SLAJ, he was penalized by the High Court of Bo for standing up for two of his colleagues who were arraigned before the Court but later jumped bail. "I felt obliged to support my colleagues," he said before the Court.
Since then, he has received nine death threat letters over eight years. "They are written and dropped off either at the office or my residence," he says. "Even my wife has advised me to give up my journalism career, but I have always told her that I will be safe."
In addition, Haffner has been accused of unprincipled journalism by those intending to soil his hard-earned reputation.
In spite of all these threats, Haffner has refused to be silenced: "The more I am threatened, the more I keep on reporting. That is what journalists should do. They want you to quit. I simply can't do that."
"My love for journalism is immeasurable. I have no regrets about continuing to stick my neck out for my people."