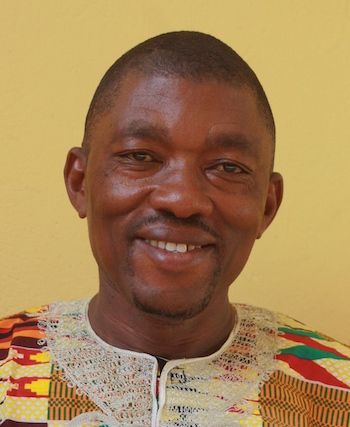 See 2019 update to this story below
ORIGINAL STORY: Summary: Siaka Sama is a strong voice who represents farmers in southern Sierra Leone. For decades, a foreign company, with the encouragement of the Sierra Leone government, has been appropriating land without the consent of the owners, who are evicted and paid next to nothing for their possessions. When Sama and others protest these actions, they are typically arrested and thrown in jail. They are released only after paying hefty fines. Despite this, Sama continues to speak out, to raise money, and to challenge the government. He is even planning on running for Parliament in 2018, where he can officially bring up the issue before Sierra Leone lawmakers.
Profile: It happened like this: In 2011, a Luxembourg-based company called Societe Financiere des Caoutchoucs—familiarly, Socfin—leased land in southern Sierra Leone for approximately $100 million. Socfin wanted to establish and manage a palm oil project in the province. The Sierra Leone government wanted to encourage foreign investment, so they were all for the deal and in fact negotiated it.
The problem was that the owners of the land never approved it, and they and other activists did not hide their disapproval.
Siaka Sama was one of those activists. He belongs to the Mahlen Land Owners and Users Association—MALOA. They demanded compensation for their land, especially because community farming has been the main source of their income. So they protested.
And they were arrested. Sama and four others were taken in, tried without access to a viable defense, and found guilty of conspiracy to commit a crime—incitement and destruction of 40 palm trees that technically (according to the High Court of Sierra Leone) belonged to Socfin. Each of the activists was sentenced to a minimum of five months' imprisonment. Sama stayed in jail for several weeks and finally was released, but only after paying a fine of $14,600. Sama wouldn't have even been able to pay the fine had it not been for donations raised by the Coalition of Civil Society Organizations. Upon his release, Sama spearheaded the campaign to pay the fines for his fellow protestors.
Much to the chagrin of the government as well as of Socfin, Sama was not quieted after getting out of jail. He points out that Socfin has been using dubious governmental procedures to acquire thousands of acres of Sierra Leone land over the past 50 years. This, he says, amounts to nothing less than exploitation: Citizens—rightful owners—have their land taken away so that a foreign company can plant palm trees, and for their loss they are paid a pittance. "In fact," says Sama, "after the takeover by the company, nobody was allowed to go near that land."
"This became unbearable," he continues, "for the land has been the only source of livelihood for my people over decades; with it gone, life has become hell for them."
Sama is continuing to speak out against Sofcin, regardless of the risks. He's even planning on running for Parliament, where he can bring up the issue for redress.
"My people deserve better," he says, "and not to be deprived of their land. . . . It's just not reasonable and can continue to serve as a source of conflict now and in the future if not addressed."
UPDATE APRIL 2019: GIRAFFE HEROE SHIAKA SAMA FACES CHARGES OVER AN ALLEGED ROBBERY AND INCITEMENT
In 2015, Giraffe Hero Shiaka Musa Sama was arrested for his continuous call to action on behalf of Malen Affected Land Owners and Users Association (MALOA) for land rights victims in his home town of Sahn Malen in the Pujehun District in the south of Sierra Leone. Mr.Sama's continuous struggle is for the people's right to land and livelihood in the face of large-scale land investments by Socfin Agricultural Company Sierra Leone Ltd. in Pujehun District.
At a gathering on the 16th June 2016, the Coalition of Civil Society Organizations presented the freed MALOA 6 to the national and international public following tremendous efforts to free these land owners from prison. Mr. Sama alongside five others had been earlier charged and fined on 4th February 2016 over forty thousand United States Dollars. He and the others were accused of destroying palm plants as part of their protests. The fines were eventually paid.
In January 2019, Mr. Sama was arrested again and spent 9 days at Sierra Leone's Criminal Investigations Department in Central Freetown, and 9 days at Pademba Road Correctional Service in Freetown. This came as a result of the people's unceasing request for a review of the SOCFIN contract that has seen the company control over 12,500 hectares. The people's call for review of the land grab led to a protest that saw the Police shoot down two local landowners.
Shiaka Musa Sama is presently standing trial at the magistrate Court of Sierra Leone in Freetown for alleged robbery, incitement, false publication etc.Initially, Police had also charged Mr. Sama with the murder of the two locals, but it became clear that he was innocent of those killings; investigations proved that the two persons were in fact shot by the Police.
Still Honorable Shiaka Sama remains unmoved on his quest to speak up for his people for a better land deal.