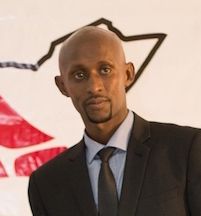 Abdikalif Abdiqafar Adan pioneered the eradication of malaria, infant mortality rate, HIV/AIDS, and distribution of nets to destitute in the coastal region. He has inspired many to take up responsibility in the society through various community initiatives such as financial literacy, support for the elderly, the Jamvi La Wageni, a community initiative aimed at training youth on effects of drug abuse among many others.
In addition, Abdikalif supports youth initiatives through mentorship, financial education, opening cyber business and life skills under his initiative, Kenya Youth For Change. Through the Nomad Green Belt Movement, he practices environmental conservation. Mr, Abdikalif organised the 'Walk Of Hope', with an aim of bringing integration and peaceful co - existence of communities in the Northern region that has experienced insecurity, marginalization, radicalization and extremism.
Giraffe Heroes Kenya wishes to recognize Abdikalif Adan for 'sticking out his neck' for the common good and his desire to lighten the loads, strengthen the hearts, and improve the lives of those in his circle of influence.