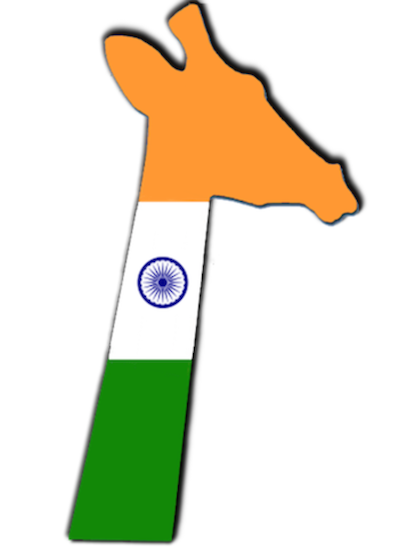 Giraffe Heroes India (GH/India) brings Giraffe vision, strategies and tools for change to the 1.3 billion people on the Indian subcontinent. Like all Giraffe Hero affiliates, GH/India tells the inspiring stories of the country's heroes, motivating others to become heroic too..
GH/India was launched following a ten-day visit to India by GHI Director John Graham, working with GH/India Director Vijay Saluja.
BREAKING NEWS: Giraffe Heroes Battle the Pandemic in India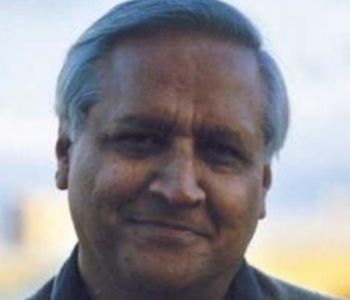 Bunker Roy
Bunker Roy, through his Tilonia Covid Relief organization, is helping keep thousands of poor people from starving because of the lockdowns imposed by the government's response to the pandemic.,More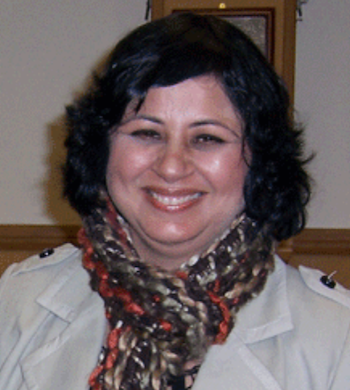 Kiran Martin
Kiran Martin, a pediatrician, was commended as a Giraffe Hero for focusing her work on the poor of Delhi despite overwhelming obstacles. Now, as India has gone into pandemic lockdown, there are millions of day workers without income for food or shelter. For them, physical distancing and adequate sanitation are impossible. Dr. Martin and her teams of "Corona Warriors" are everywhere, providing funds, food, and medicines. Full story here
The Giraffe Heroes of India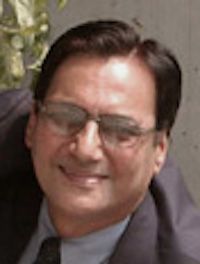 From the Director
February 2, 2004 was a very special day for me. On this day, I received a letter from Ann Medlock, the Founder of Giraffe Heroes Project which said:
`I am happy to tell you that you were chosen by our most recent jury to receive the enclosed Giraffe Commendation, joining over 900 people who have been honored as Giraffe Heroes since the Giraffe Project began in 1982.' The letter stated that this was for sticking my neck out to fight corruption in civil government.
It was unbelievable! I had received the Red & White Bravery Award in 2002, but this Giraffe Commendation came at a difficult time and was a HUGE morale-booster! It was a matter of great honour, pride & privilege to be ONE of the distinguished family of Giraffes. My years of trodding on the lonely path, which was very rough & uneven at times, had finally brought me to the doors of a family consisting of brave, caring & committed people.
I was still in the local government of New Delhi, fighting a long legal battle with my own organization. I had filed a case in the High Court in 1993, for a look into the unethical & unfair practices followed by my seniors which had resulted, to my mind, in a huge misuse of public funds. They were encouraging, pampering & protecting unethical colleagues, at the same time that they were harassing & hounding me in every possible way. I was making a stand for professional values & ethics. My good record was changed to damaging assessments of my work, making it impossible for me to advance in my career.
I finally won the legal battle, arguing the case myself against the organization in which I had worked since 1969. In May of 2004 I was appointed the Chief Engineer[civil]-HEAD of my Department.
Why have I given my personal example? It's about something Ann mentioned in her letter. She said, "the aim is to tell others about you so that they will follow your example." And that is the aim of this new organization, Giraffe Heroes India. This new non-governmental organization will tell the stories of India's heroes, so that people all over the country can be inspired to stand tall on public problems they see.
Being appointed DIRECTOR of the Giraffe Heroes India Programme, is a matter of great honour & privilege for me. But having said that, it brings with it huge responsibilities. I'll be rallying supporters for the cause, calling for nominations, organizing a jury, enlisting media to tell the stories.
But, I am happy to tell you that there have already been very enthusiastic & positive responses & I am confident that Giraffe Heroes India will start kicking soon like the operations in Sierra Leone, Egypt, Nepal & the UK.
I welcome your ideas and support.
With best wishes to all & for Giraffe Heroes India
Vijay K. Saluja, New Delhi-India (Saluvk@gmail.com)
How It All Started
Giraffe Heroes India was launched following the visit to India of John Graham, Director of Giraffe Heroes International. Graham and Giraffe Heroes/India Director Vijay Saluja visited dozens of India's leaders in government, business, media, education and the world of NGOs, seeking their advice and support. The response was very enthusiastic, from the Maharaja of Jodhpur to Indians of all ranks, who saw the need for building more of the public-spirited courage necessary to take on the country's daunting challenges. Saluja and Graham gave three public presentations on this first trip, combining Saluja's inspiring story of his own anti-corruption fight with Graham's stories of thirty years of working with and learning from Giraffe Heroes. A solid beginning was also made with India's major media, including well-placed articles in major newspapers.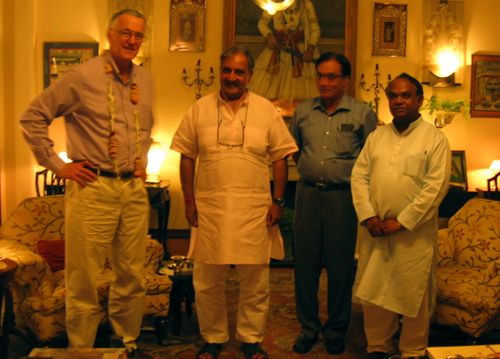 GHI Director John Graham, Maharajah of Jodhpur, GH/India Director Vijay Saluja, and social activist and educator Varun Arya, taken in the Maharajah's palace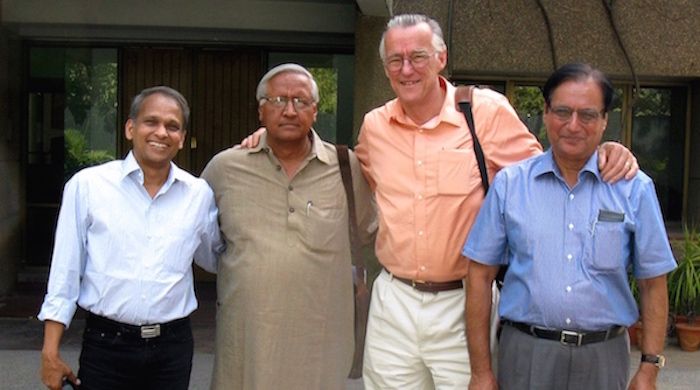 B.V. Rao, Editor of the magazine Governance Now; Giraffe Hero Bunker Roy; John Graham, Director of Giraffe Heroes International; and Giraffe Hero Vijay Saluja, now Director of Giraffe Heroes India.
One of the many high points for Graham was meeting with traditional village leaders (sarpanches) in the Rajasthan desert, explaining how bringing into their villages stories of Giraffe Heroes—people from all over India solving the kinds of problems they all face—could help them generate enthusiasm and action for local change.

from left first row: Saluja, Varun Arya and Graham with village leaders