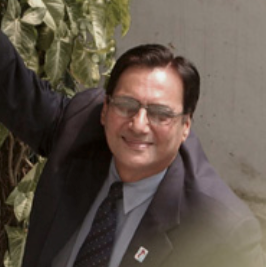 In 1969, a new graduate from the Indian Institute of Technology joined the New Delhi Municipal Council. As an Assistant Engineer, young Vijay Saluja's goal was to help responsibly develop the capitol city. He thought his job would be to design and maintain municipal projects; to correct traffic problems and fix pot-holed roads; to clean-up garbage, pollution and overflowing sewage as he worked on planning, design, construction and maintenance of vital municipal projects.
He hoped to improve overall living conditions for the people of New Delhi, which many residents described as "a nightmare." It wasn't long before Saluja found his goal was not shared by his superiors. He was appalled by the corruption he saw within the New Delhi Municipal Council, India's richest civic body. He found money misspent on faulty public buildings, and more money squandered on incompetent road repairs.
Charged with reducing the city's urban troubles, the Council instead fostered practices that led to huge time and cost overruns on projects, often resulting in huge arbitration awards. Hundreds of corruption cases were pending against officers in the organization.
Saluja began fighting against the system; his crusade continues to this day. He started by writing letters to his supervisors asking that quality control measures be enforced so that public taxes actually served the public good. He appealed to the Lieutenant Governor, to the Home Ministry and the Prime Ministers of the country. Nothing changed.
Instead, Vijay Saluja became a target of harassment. False complaints, departmental inquiries, transfers, and suspensions faced him at work. At home, he got a death threat from a contractor that Saluja had refused to pay for sub-standard and defective work on a Council contract.
For nearly 20 years he was denied promotions and benefits. He suffered financial, mental and physical stress. But friends say every action taken against him merely strengthened his resolve to end the corruption. In 1993, Saluja filed a civil petition in Delhi High Court citing his superiors' abuses of power, including massive squandering of public funds, and the damages to Saluja's career. Stall tactics by the Municipal Council's lawyer dragged the case on till March of 2001, when the court awarded Saluja punitive damages. Thanks to still more stalling from the Council, the court's orders were ignored until 2004. Saluja was then royally vindicated by the High Court of Delhi, which ordered an independent review of the case. The findings led to restoring Saluja's 20 years of lost seniority, made him Chief Engineer of the department, and earned his adversaries contempt notices for dragging their feet.
Despite the decades of a hostile work environment and obstacles at every turn, Saluja has managed to oversee many exemplary roads, buildings and redevelopment works. He is respected worldwide for his work on urban management, municipal engineering, urban poverty and the environment. His countrymen acknowledged his work with the Red & White Bravery Award, recognizing his exceptional acts of social courage.
Vijay Saluja has been sustained through the years by his devotion to the common good. "Callous waste of public funds, when abject poverty abounds, literally appalls me" says the Chief Engineer.