For Teachers & Families
Giraffe Programs Help Kids Worldwide Become Courageous and Compassionate Citizens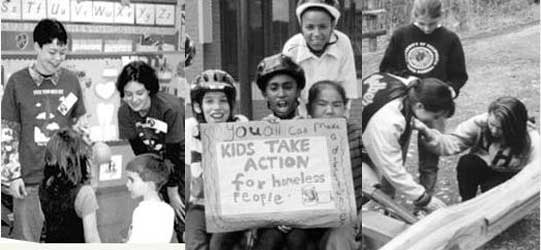 Giraffe Education Programs—a Brief Summary
In classrooms all across the United States and in English-speaking classes abroad, Giraffe programs help schools and youth groups foster courageous compassion, active citizenship, and academic success. Our materials were developed to reach young pre-readers and on to high schoolers. All feature the stories of Giraffe Heroes—the real people honored by the Giraffe Heroes Project for sticking their necks out for the common good.
Giraffe programs are service-learning, that is, they teach academic and life skills as they help kids build lives of active service to their communities and beyond. The Giraffe Heroes Project was a pioneer here, helping invent the practice of service learning in the early 90's and define standards and Best Practices .Giraffe service learning programs are still the gold standard. Read more about Service Learning and its best practices here, in both English and Spanish.
We also describe Giraffe curricula as "civic engagement" to emphasis their role in helping kids become courageous and compassionate citizens. They also quality as "experiential learning."
Giraffe programs are value- based, and fit well into any kind of character education. Education Week, the newspaper of record for educators, has called our curriculum, "the ultimate character education."
And, finally, Voices of Hope, a key component of our range of programs, is used as a literacy training tool all over the world, especially in teaching English as a second language.
Components
The Giraffe Program for grades K-2 is a free download here.
The Giraffe Kit is designed for kids 8-14.
The It's Up to Us program is also a free download and works best for kids 13-16.
The basic progression in all three of these basic programs is:
~ HEAR THE STORY—kids listen to, watch or read the inspiring stories of Giraffe Heroes.
~ TELL THE STORY—then they find their own heroes, in books, in the media and in their own communities—and tell their stories in class.
~ BE THE STORY. finally, kids in the Program decide on a public problem that needs fixing, organize and carry out a service project to fix it—and become their own story of brave and compassionate action.
IN ADDITION:
Stick Your Neck Out and its Teaching Guide are meant for upper level high school kids.
The Voices of Hope anthology of heroes' stories is best for kids 6-16.
The Voices of Hope Service-Learning Guide is a very helpful tool for people from middle school kids to adults
It's all sound pedagogy, using the power of story to engage young hearts and minds, constantly drawing forth their own concerns, creativity and altruism. Throughout the process, they find and use the many academic skills they need to achieve goals they've set for themselves. Student-centered learning just makes sense to us, as does the basic psychology of the Hear, Tell, Be sequence. Giraffe programs give kids something to say "Yes" to.
"The Giraffe Heroes Program has an impact like nothing else does. It's not just something they've memorized—they are learning to live it. This is powerful, powerful stuff."— Sandra Barbaro, Fulmar Road Elementary, Mahopac NY
Let's start with what's free here ~
And we have things you can buy ~
Here's our Teachers' Magazine—education-related stuff you'll want to read~
If your school needs backup information here are Evaluations, Correlations & Field Reports