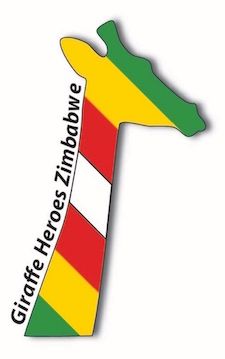 Giraffe Heroes Zimbabwe (GHZ) was launched in 2014 with the purpose of inspiring more and more citizens of that country to "stick their necks out" to help solve the tough public problems that challenge that country.
The organization joined similar groups in India, Nepal, Kenya, Sierra Leone, Ghana, Singapore and Argentina. Although completely independent, all are inspired by the work of the Giraffe Heroes Project in the USA.
The strategy of Giraffe Heroes Zimbabwe—as all the other Giraffe groups—is simple. GHZ finds brave Zimbabweans of all ages and walks of life who are already acting courageously for the common good.. When it tells the stories of these heroes over both traditional and social media, others are moved to get into action too. Telling the stories of heroes to motivate others to action may be a very simple strategy, but it works—as it has in every culture for thousands of years.
Giraffe Heroes Zimbabwe, as all other Giraffe Heroes programs around the world, will not take sides with any one political party or ethnic group. Rather, it will find and celebrate the work of those citizens whose lives transcend party, ethnicity and class—people whose work is dedicated to the good of all people in the country, from all parties and all groups.
Giraffe Heroes are chosen by a jury of citizens from nominations received from all over the country. The main criterion for being a Giraffe Hero is that the person has taken courageous action that serves the common good.
Every effort will be made to convince the new leaders of Zimbabwe that Giraffe Heroes Zimbabwe serves them as well as the entire country. It is in the interest of all political parties to support Giraffe Heroes Zimbabwe as a powerful means for harnessing the problem-solving ideals and efforts of every citizen.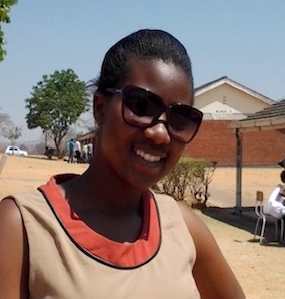 BREAKING NEWS—GIRAFFE HERO JAILED FOR TREASON
Giraffe Hero Joana Mamombe becomes the first woman in Zimbabwean to be charged with treason following the January fuel price protests. She's being accused of having incited people to revolt against the government of Emmerson Mnangagwa by calling for people to protest against the worsening economic crisis. If convicted she faces up to 20 years in prison.
Remember her name. Global pressure will be important in keeping her safe. For the full update and original profile, go here,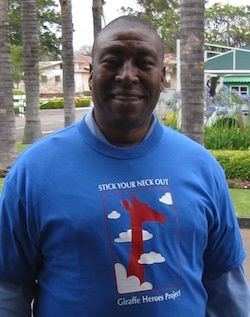 BREAKING NEWs—Maguwu's dangerous challenge
The Giraffe Heroes Project honored Farai Maguwu six years ago for his brave and committed work combating the injustices, incompetence, corruption and violence of Zimbabwe's then dictator Robert Mugabe. Maguwu and his allies created the pressures that finally removed Mugabe from office last year. Unfortunately, Mugabe's replacement isn't much better. Zimbabwe still lacks the security, justice and prosperity it deserves and could surely have under competent leadership.
Now, Farai Maguwu has stuck his neck way out with an open letter critical of Zimbabwe's new President. As many nations, including the US, struggle with toxic leaders, read Maguwu's letter as an inspiring example of a brave and honest patriot in action. And remember his name— Farai Maguwu. If he's arrested, global pressure will be important in keeping him safe.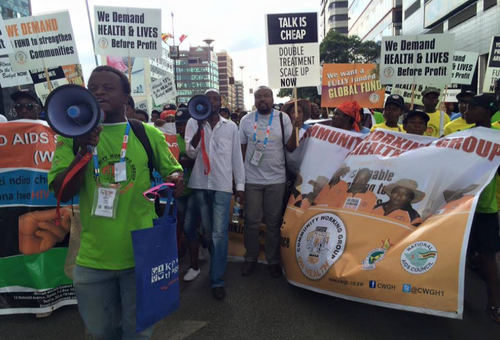 NEWS
Emmerson Mnangagwa was elected President of Zimbabwe in August, 2018, replacing Robert Mugabe who had resigned as head of government following massive demonstrations by citizens demanding his exit from power.
Mugabe had ruled Zimbabwe with an iron fist for 36 years, resulting in the death and disappearance of thousands of citizens including political activists by state security agents .
Giraffe Hero Itai Dzamara is one such courageous citizen who disapeared in 2015 after being seized by suspected state security agents at the after criticizing Mugabe 's rule and calling for his stepping down from office.He remains missing ever since and fresh calls have been made by civil society and family members to the new government of President Emmerson Mnangagwa, calling for his return.
We thank all our Giraffe Heroes for standing up against tyranny during Mr Mugabe's era and urge them to continue such work in the new Zimbabwe.
Giraffe Heroes Zimbabwe will continue working hard and courageously to promote social, political and economic rights in Zimbabwe. Giraffe Heroes will continue to monitor the new government closely, challenging it to fulfill its promises to end corruption and to bring stability, justice and economic progress to all the people who have waited so long to see it.
From the Desk of the Chairman
My name is Terry Mutsvanga and I am the Chairperson of Giraffe Heroes Zimbabwe. It is my pleasure to introduce you the GH Zimbabwe (GHZ) Chapter. Although the concept is still young, we believe that we will grow big. We have already honored over 80 Giraffe Heroes—brave citizens who are "sticking their necks out" to fight for the rights of all Zimbabweans.
GH Zimbabwe strives to recognize "unsung heroes" that have positively contributed immensely in society and to tell their stories to the nation, inspiring others to stick their necks out too. In this way, we hope to leave a legacy of positivity to future generations through our work.
We are now calling upon nominations for individuals from around Zimbabwe whom you think deserve to be honored for their outstanding contributions inasmuch as advocating for social and economic rights as well as contributing positively in communities they reside in.
Do you know of a fellow Zimbabwean—man or woman, young or old, from any tribal, economic, political, social or professional background, who is acting bravely ("sticking her or his neck out," just like a giraffe!) to help solve one of our country's pressing problems, including, for example, poverty, poor infrastructure, mismanagement, corruption and enormous challenges in almost every sector of the economy? If you do, email the information to me at Terry Mutsvanga terrymutsvanga81@gmail.com.
Thank You
The Giraffe Heroes of Zimbabwe