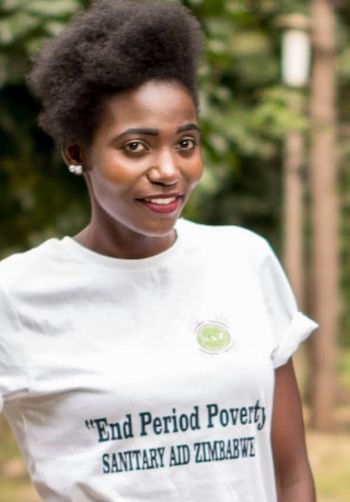 Summary: Theresa Nyava grew up poor in rural Zimbabwe, and her family couldn't afford to purchase menstrual products for her or her sisters. Once in university, Nyava began donating money to underprivileged schoolgirls and lobbying for affordable products and services for girls experiencing their periods. She later formed a nonprofit, Sanitary Aid Zimbabwe Trust. For her efforts, Nyava has been denounced by many religious and tribal leaders, who see her as challenging the traditional ways of treating females.
Profile: Theresa Farai Nyava (27) is a woman on a mission. Born in a family of five girls from a peasant family in the rural district of Zvimba, in Zimbabwe, life has not been easy.
Her parents had to struggle to raise school fees for the family and other extended family members, and to meet other basic necessities for the big family. As she reached puberty, having her first period came unexpectedly and that's when the reality of "period poverty" struck her. Too poor to afford menstrual products, she had to resort to old pieces of cloth when she was on her period, and endure the discomfort and fear of spotting her uniform or school chair.
But she endured. By the time she started university in 2012, Theresa was inspired by the challenges she personally experienced to start campaigns to raise money to provide sanitary wear and other menstrual health products to young women who could not otherwise afford them. She would donate to underprivileged school girls in her community, while also lobbying different stakeholders to act to foster menstrual equity and improve menstrual health management in Zimbabwe.
In 2016, she extended her individual campaigns to provide sanitary products for underprivileged girls and women by forming Sanitary Aid Zimbabwe Trust, a fast-growing non-profit that's on a relentless mission to eradicate "period poverty" and menstrual health challenges in Zimbabwe.
"I envision a Zimbabwe where all girls and women can access adequate menstrual products, in an environment that is period-conducive and where women are treated with dignity in order for them to manage their periods.
"I was born in a family of five girls in a rural area of Zvimba and during my adolescent days, when I started menstruating, I experienced how lack of sanitary wear and other menstrual products forced girls to miss school every month, due to lack of access to period products." She added that many menstruating girls from rural Zimbabwe are forced to resort to unhygienic means such as dirty rags, cow dung, soil and leaves.
"In light of the above," she continues, "I founded Sanitary Aid Zimbabwe Trust to try and fight period poverty in Zimbabwe and to educate girls and women about menstrual hygiene and health. We have so far distributed menstrual health products such as sanitary wear, underwear and soap to thousands of underprivileged women and girls," she said, adding that some of the beneficiaries include female refugees, female prisoners, homeless girls, women and girls in disaster relief camps, school girls in poor communities and girls in children's homes.
Theresa's organisation is lobbying aggressively for policy action to improve access to sanitary wear and other period products. Her petition (https://bit.ly/307o08F) lodged with the Parliament of Zimbabwe to end period poverty garnered 2,431 signatures.
Her organization was also instrumental in the crafting of the Education Amendment Bill, with its two key proposals to have sanitary wear be distributed for free to school girls, and for basic State-funded education to continue through Grade 12.
For her efforts, Nyava has encountered much blowback from powerful religious and tribal leaders. These people—and the cultures they represent—have seldom respected the needs of females and see Nyava in particular as breaking taboos and upsetting their traditional ways.
But Theresa believes that making sure that young girls have access to adequate sanitary products can help them succeed in life. "I am challenged" she says, "by how many girls and women are excluded from participating in socio-economic opportunities simply because of the natural biological processes they go through. I am motivated to see these huge gender gaps closed in our time.
"I have a deep love for my country and I am passionate about women claiming their power through self-care. This can only happen if we start to build a today and tomorrow that is full of empowered women and healthy girls as well as responsible boys and men. We can achieve this by starting to humanize periods, instead of demonizing them," she said.
Because of her sterling work, Theresa was recently honored with the Power Together Award by the Women Leaders Global Forum, an award given for outstanding initiatives where people join forces to effect great change. She is set to receive the award in November, 2019 in Iceland.