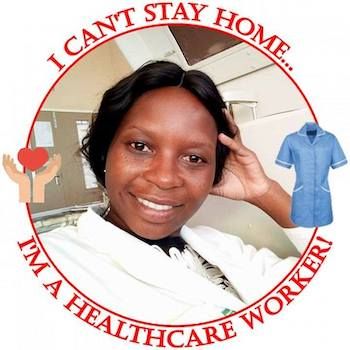 Summary; Despite very little available knowledge about the causes, transmission, and effects of COVID-19, Zimbabwean psychologist Wendy Gumbanjera volunteered to help those affected from the very beginning of the pandemic. Against the wishes of her family and friends, she went to the front lines to help. The virus has taken a serious toll on Zimbabwe, but Gumbanjera continues to risk her life in order to stem the outbreak and also offer free counseling to young women facing domestic violence.
Profile: COVID-19 had just hit Zimbabwe, and psychologist Wendy Gumbanjera knew what she had to do—volunteer to help.
"When the first wave struck the country," she recalls, "very little knowledge was available, and I had family and friends discouraging me from carrying out my volunteer duties. I had to ignore the calls and take the risk. Some of my colleagues fell ill but fortunately survived, and now, with better research and information, we know how to handle the pandemic unlike in the early initial stages."
Gumbanjera was among the first group of individuals who risked their lives in helping combat the spread of the virus. Since then, she has not relented, even as COVID-19 has resulted in thousands of deaths in Zimbabwe. The country's health care system hasn't been coping with either vaccinating its citizens or caring for them once they become infected.
Gumbanjera has done more than most during this pandemic. She has conducted awareness campaigns, instructed people in how to sanitize objects, and provided support to those who have fallen sick from the virus and those whose loved ones have fallen sick from the virus. She also offers free counseling services and support to young women facing domestic violence, emotional stress, and other daily challenges.
Even with all the dangers of infection, sickness, and possible death, Gumbanjera soldiers on:
"I feel it is my duty as a citizen to help in fighting towards the elimination of this deadly pandemic, and it is my duty as a citizen to be on the forefront in fighting against this deadly pandemic.
"I believe that one day the fight against COVID-19 will be history and the whole country and the world in particular will return to normalcy.