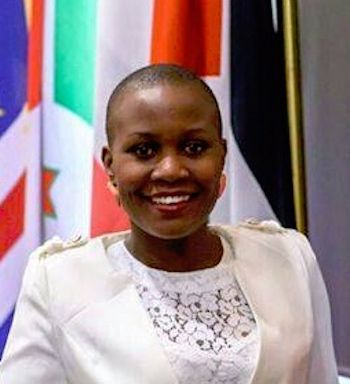 Summary: Maureen Kademaunga started Women for Women Zimbabwe and, through her "She Votes" campaign, is helping women all across Zimbabwe learn about electoral issues, gain the materials to register to vote, run for office, and stand up for policies that benefit women economically, politically, and culturally. Her events have sometimes been thwarted by local police, and she's been harassed on a number of occasions. Nonetheless, she feels it's her duty to make sure that as many women as possible vote in the upcoming 2018 elections.
Profile: Maureen Kademaunga is fighting for the largest demographic group in Zimbabwe—over half the population. Maureen Kademaunga is fighting for women.
Zimbabwe's economy is not doing well, and many people cannot afford basic needs such as food and health care. There are also problems with the educational system, increased militarization, inability to pay civil servants and corruption in government. Women are suppressed not only economically, but also politically and culturally, and many of them aren't taking to the streets to express their dissatisfaction. Kademaunga, a key leader in this movement, wants to effect change as soon as possible. She founded Women for Women Zimbabwe, a nonpartisan organization that advocates for women—and girls—to take part in the democratic process. That process includes becoming aware of issues, voting, and running for office.
Kademaunga has been facilitating workshops and other events throughout the entire country under the banner "She Votes"; the campaign is helping women acquire the appropriate credentials to be able to register to vote. "It is my duty," says Kademaunga, "to ensure that all women in the country vote in the coming elections." To that end, she is calling for electoral reforms as well as administrative changes to the Zimbabwe Electoral Commission.
In a country where the state does not respect human rights activists like Kademaunga, her campaign has not exactly met with unanimous approval, particularly from the government. The police have denied her permission to hold events in different communities, and they've disrupted other events. Although the government accuses her of trying to effect "regime change," Kademaunga continues to insist that her efforts are not tied to any particular political party: "We are women first before we are political party members, and the issues that we face are bigger than the smallness of our politics." Nonetheless, she has her preferences: "We will align ourselves with parties whose political manifestos are aligned to our values of people-centeredness, anti-poverty, pro-equality, and pro-development."
There are other obstacles on the way to making changes in the 2018 elections. Kademaunga and her allies have observed that running against men in local districts is not easy, particularly when the men are able—and more than willing—to buy beer, food, and other items for potential voters. Many women do not have the financial wherewithal to compete, and women buying beer for potential voters would definitely be unacceptable.
Kademaunga vows to press on; she knows that millions of women depend on her. "I will keep on striving," she asserts, "towards ensuring that women have a voice in this country, no matter the risks."