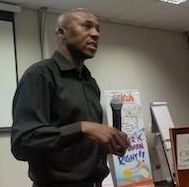 Housing has been a major challenge in Zimbabwe's urban centers with a number of residents renting or residing in illegal settlements. Many of these citizens have been conned by criminal syndicates into buying houses situated in undesignated places which are then demolished by the state.
Hundreds of families have had their houses demolished regardless of court orders compelling the halting of such demolitions. Civil society organizations have accused the government of Zimbabwe of violating citizens rights for not respecting the court orders.
In Chitungwiza town, a dormitory urban settlement that lies about 25 kilometers from the capital Harare, a residential organisation called the Chitungwiza Residents Trust (CHITREST) has been active in mobilizing residents to resist such demolitions.
Marvellous Khumalo, the Director of CHITREST has been the leading face behind the fight against the demolitions.
He has been arrested and detained on several occasions whilst defending widows and orphans who had their properties threatened with demolitions
"I have been detained by law enforcement agents whilst fighting against demolitions and CHITREST has been highly active in mobilizing citizens to resist house demolitions since we regard this as unconstutional. The government has to provide alternative shelter to its citizens before demolishing their homes. We will keep on advocating for the halting of such destructions," said Khumalo.
He added that the government was supposed to arrest scores of land barons who are still walking "scot free" regardless of swindling desperate citizens.
"A lot of land barons are still walking freely in the town. The state has to arrest such criminals instead of destroying houses belonging to the poor," Khumalo said.
CHITRSET has also been active in environmental awareness campaigns as well as fighting for the provision of safe and clean water to residents by the town council.