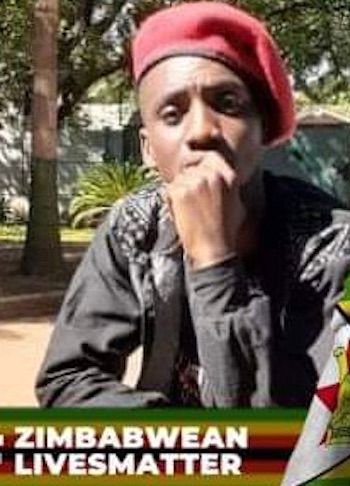 Summary: Liam Kanhenga is a Zimbabwean human rights activist, currently working on a voter awareness and registration program targeting thousands of college and university students as the country prepares to choose a new President in 2023.
For his efforts, Liam has been arrested, imprisoned, and beaten by police several times. Nonetheless, he does not relent in fighting bad governance and human rights violations being perpetrated by the current government led by autocratic President Emmerson Mnangagwa.
Profile: Next year, Zimbabweans will go to the polls to vote for a new President; young people, who constitute about 70% of the country's population, are considered the "political game changer" in the election. The current government, which has been in power for the past 42 years, has been accused of destroying a once robust economy, the results of which have rendered millions destitute.
Their influence notwithstanding, a high number of young people in Zimbabwe are still reluctant to participate in the election; the current voter registration report reflected a very low registration. This is where Liam Kanhenga and his colleagues come in to help.
'We have a very huge young population," says Liam, "that can help dislodge this government through the ballot and that can only be achieved if we all turn out and register to vote as well as casting our vote on the election day. With my network in the country's tertiary institutions, we have set up voter registration teams that educate and advocate towards the importance of voter registration."
Given the volatile landscape characterizing the country's politics, Liam has been a victim of police brutality as he embarks on his work of human rights and voter registration:
"I have been arrested and beaten up by the police several times whilst conducting my work as a human rights defender; barely last month, I spent six days in remand prison after I was caught leading from the front a teachers' union demonstration calling towards the improvement of better salaries and working conditions for its members."
Elections in Zimbabwe have been marred with controversy as the sole election managing body—the Zimbabwe Electoral Commission (ZEC)—has been accused of helping the ruling ZANU PF party to rig votes. A recent report by an independent electoral watchdog unearthed thousands of ghost voters and nonexistent "centurions" on the voters roll. ZEC has been mum over the issue.
And that is just one reason why Liam remains resolute, despite the arrests and assaults:
"I will not backtrack in fighting for freedom and democracy in the country. This country is desperate for change, and it is only we as young people can make that happen."