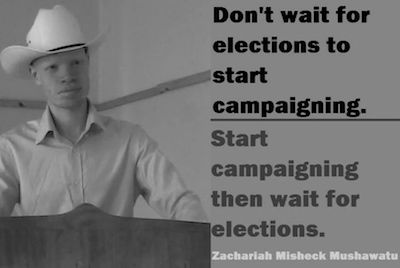 Zacharia Mushawatu
Zimbabwe is scheduled to hold a general election in 2018, with President Robert Mugabe—who has been in power for the past 36 years—expected to contest at the age of 94. A new generation of voters, among them millennials, could hold the key to the result—but voter apathy has been a big problem.
This has led a number of electoral watchdogs in Zimbabwe to conduct voter registration and awareness campaigns. Zacharia Mushawatu is one such courageous young man. He is the founder of Youth Advocacy for Voter Enlightenment and Progressive Orientation—YAVEPO. The organization is especially active in Zimbabwe's urban centers, where voter turnout is low regardless of better access to media platforms.
YAVEPO is encouraging young people in the country not only to vote, but to take charge of the electoral process by standing up as candidates themselves. Mushawatu, who was once a student leader at the country's largest institution of higher learning, the University of Zimbabwe, makes his case for increasing young people's appearance on the ballot: "Young people constitute more than 60% of the population," he says, "and it is highly imperative that they participate in the electoral process by either voting or running as office bearers. As it is now, some older people are taking advantage of young people by only using them in campaigns by giving them drugs and alcohol to intimidate rival groups."
YAVEPO is calling for the reduction of the Presidential lower age limit from 40 to 35 years. The group is also challenging the amendment of Section 24 of the Electoral Act, which bars from voting youths who do not have proof of residence.
YAVEPO faces obstacles. "Conducting our campaigns is quite difficult at times," admits Mushawatu, "as we are threatened with assault by supporters of ZANU-PF (President Mugabe's party). At one time, we had to flee a gang of marauding youths in Mbare. This is part of the challenges that we face in this country, but we won't stop. We believe that it is our duty to educate young people on the importance of participating in the electoral process."