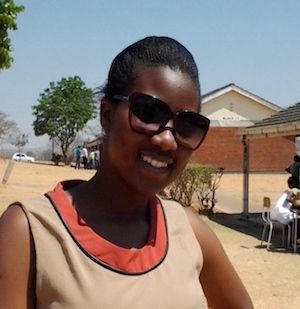 UPDATE APRIL 2, 2019: Joana Mamombe, Zimbabwe's youngest Member of Parliament at age 25, is facing treason charges for attempting to overthrow a constitutional elected government of President Emmerson Mnangagwa and if convicted she faces up to 20 years in prison.
Mamombe, a former student leader during her university years was elected an opposition MP in Zimbabwe's capital during last year's general elections becoming the southern African country's youngest legislator.
Mamombe was named Giraffe Hero years ago and has continued with her activism in fighting for justice and human rights.
Back then Mamombe felt that it was her duty as a citizen to defend other citizens' rights, and she has put her opinions into action many times. Typically, she's defiant about maintaining her participation in marches and other protests: "I'm not afraid to do that."
She was arrested in March this year while attending parliament business. Her treason charges emanate from her January press conference statement in which she urged members from her constituency to 'dress in black' and embark in a 'peaceful protest' over the high cost of living in Zimbabwe after government hiked the price of fuel.
The protests in January led to the death of at least 17 people who were shot dead after soldiers opened fire on unarmed protesters.
Prosecutors charge that Mamombe wanted to overthrow President Mnangagwa's government after she urged people to protest over the high cost of living at a press conference. Her arrest has been condemned by her party, the Movement for Democratic Change (MDC), civic society groups and ordinary people.
Mamombe who was detained for days is currently out on bail and is among other opposition MPs and civic society leaders who are facing treason charges.
She is being represented in court by the Zimbabwe Lawyers for Human Rights (ZLHR).
Mamombe studied Biotechnology at a local university and also studied in Norway and the United Kingdom.
She was the secretary general of the country's largest tertiary student's movement, the Zimbabwe National Students Union (ZINASU) from 2013 to 2015 and goes by the moniker 'Mama Madikizela' named after the anti-apartheid hero Winnie Madikizela, the late ex-wife of struggle icon Nelson Mandela.
After her detention for days Mamombe was granted bail by the High Court she tweeted the "struggle continues unabated."
Her case is pending before the courts.
ORIGINAL POST: In Zimbabwe, universities are sorely under-resourced; as a result, students are finding it difficult to complete their studies, and thousands are dropping out.
One student, Joana Mamombe, is determined to change things. She is the Gender officer for the Zimbabwe National Students Union (ZINASU). In that role, she has shown immense courage—making her opinions known despite violent consequences. For example, she recently led a demonstration at Parliament calling for the government to eliminate exorbitant university fees. The response? She was beaten.
But she wasn't deterred: "As students, we are suffering as a result of the harsh economic environment prevailing in the country, and the government is not committed to assist us." Mamombe asserted that she would keep on peacefully advocating for students' rights peacefully, which is guaranteed in the part of Zimbabwe's Constitution that promotes freedom of expression.
Mamombe works with other groups, too. She is the National Coordinator for the Friedrich Ebert Stiftung Youth Alumni; her duties include organizing youth platforms that debate and discuss national issues. And she is an active member of the Movement for Democratic Change.
Regardless of the dangers, Mamombe feels that it's her duty as a citizen to defend other citizens' rights, and she has put her opinions into action many times. Typically, she's defiant about maintaining her participation in marches and other protests: "I'm not afraid to do that."