Chief Nhlanhlayamangwe Ndiweni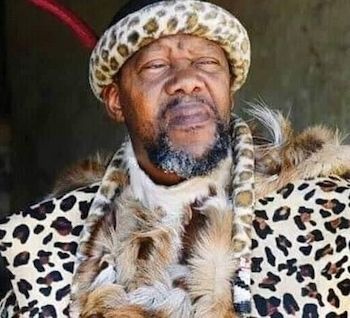 Chief Nhlanhlayamangwe Ndiweni: a Zimbabwean traditional leader "Speaking Truth to Power"
THUMBNAIL- Outspoken and defiant, Zimbabwean traditional Chief Nhlanhlayamangwe Ndiweni "speaks truth to power," criticizing government political and land-use abuses and supporting human rights. For his efforts he's been labeled a "security threat" and physically attacked by gangs sent by his opponents.
Harare- Chief Nhlanhlayamangwe Felix Ndiweni stands out as one of the few traditional leaders in Zimbabwe speaking out against the government's failure to resolve the country's political and economic crisis.
The majority of traditional leaders in Zimbawe are active supporters of the ruling ZANU PF party, in a clear violation of the Constitution that clearly stipulates that: "Traditional leaders must not–(a) be members of any political party or in any way participate in partisan politics; (b) act in a partisan manner; (c) further the interests of any political party or cause; or (d) violate the fundamental rights and freedoms of any person."
Chief Ndiweni breaks away from this "norm" and instead has chosen to speak out on behalf of the weak and marginalized of his community.
Angered by a recent government decision to parcel out land around the Ntabazinduna Mountains without consulting the local people, for example, Chief Ndiweni quickly called on the government to respect the rights of the Ndebele people. In addressing a press conference in Zimbabwe's second city of Bulawayo, he called for tough actions against the government, even appealing to the international community to escalate sanctions on President Mnangagwa's government, claiming it has failed to pursue democracy.
Chief Ndiweni claims that the government has failed to protect property rights under the guise of carrying out a land reform. "At the centre of the contestation with the government is the issue of the Ntabazinduna Mountains," Chief Ndiweni says. "The Ndebele nation was founded in these mountains and yet the government has offered a piece of them to people whom we don't know. These are historic mountains and are most crucial and important to the Ndebele people," said the Chief in a video address that went viral on social media.
Chief Ndiweni, 54, who oversees an area called Ntabazinduna in Matabeleland North province, has called for a transitional government authority in the country after disputed elections last year, and pressed for sanctions on those who are responsible for the country's misrule. "Sanctions," Chief Ndiweni told a press club, "serve as measures to make those in authoritative positions see sense".
On his Twitter account the Chief describes himself as "an active citizen with love for the country and good governance." But others criticize his outspokenness. Chief Ndiweni draws anger from the Government and ZANU PF. He's been called a sell-out and a security threat and subjected to criticisms and insults by those in power who oppose his political opinions. Victor Matemadanda, a war veterans' leader and deputy minister in government, for example, said, "It is not wise for the Chief to try and involve himself in politics. If he wants to be involved in politics let him come form or join a political party then we meet him in the ballot box rather than try to cause security threats and problems. We will not allow and accept that to happen."
But supporters of Chief Ndiweni have poured their support of his actions on social media with hashtags such as #IstandwithChiefNdiweni, #ChiefNdiweniforPresident and #HandsoffChiefNdiweni.
"As a chief he should stand up against injustice. He just did that. I respect him for that. I differ though on him calling for sanctions. He stated the obvious and truth that a government born out of a coup has no legitimacy, at best it's a transitional order. He is right," wrote development expert Maxwell Saungweme.
Bax Pamola wrote on Twitter: "Chief we are all behind you. Let them abuse state resources doing that instead of thinking of ways to provide clean water, electricity, medication but they direct their energy into suppressing others who hold different views from them. No dictatorship ever has a happy ending."
On May 15, Chief Ndiweni was attacked in broad daylight in the city of Bulawayo, an event witnessed by many people. He wrote on Twitter: "So this morning I wake up to find that the state and its minions had invested a lot of time, resources into digging into my past and my ancestors' past. Citizens, I am no saint nor was my family, BUT that cannot take away my right to "SPEAK TRUTH TO POWER"."
"Youths have attacked me in the Bulawayo central business district. The youths, moving in a ZANU PF vehicle wanted to seize my car saying they had been sent by Party officials to retrieve the government -issued vehicle. But I forced them to retreat after I sprayed car with fuel threatening to burn it," he wrote on Twitter.