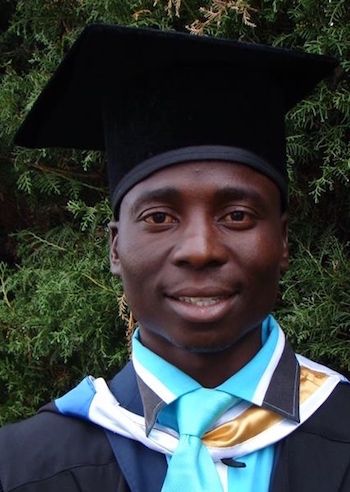 Youths in Zimbabwe have always been used by politicians as agents of violence during election time in Zimbabwe and many have died as a result of political fights which the police have done little to stop. Often the youth have no idea of the magnitude of the crimes they commit and are caught by surprise when they have to appear in court, are ostracised by society, or suffer other consequences.
Jasper Maphosa resolved to do something to counter violence amongst young people at polling time, He founded Zimbabwe Organisation for Youth in Politics (ZOYP), educating the youths on the dangers of political oppression and violence and on their roles and rights and those of the other people in their communities. ZOYP trains them to be ambassadors for peace.
It's not easy. Politicians take advantage of the rampant poverty in poor areas like Kwekwe where ZOYP is now focused, using gold mineral claims to bribe youths to be pawns of violence against opposition supporters.
'We lost a lot of young people in the 2008 elections and tensions are very high particularly in gold rich areas were rival gangs are divided along partisan lines," says Maphosa. "As ZOYP, we are visiting such areas, educating the youths not to be used by politicians, to practice tolerance and to shun political violence. So far we have conducted meetings and they have been very successful. We hope that by 2018 we will have covered other provinces,' he said.
With the country expected to go to the polls in 2018, there isn't that much time.
Even though ZOYP doesn't support any one faction, its work is a threat to some youth and the politicians who control them. A few years ago, for example, a gang of youths raided Maphosa's home and demanded to know why he was pushing an "opposition agenda." He fled and went into hiding for two weeks. Recently, after another confrontation, Maphosa had to cancel a youth awareness meeting when marauding youth threatened to attack it.
Despite the continual attacks, Maphosa is making progress: "It hasn't been an easy task," he says, "but it will not stop me from educating young people to shun violence in this country…I will keep on striving toward the democratization process in my country and community, regardless of the challenges encountered."
And ZOYP is expanding its agenda, recently launching the campaign "Not Too Young to Contest" to encourage young people from across political divides to take up leadership positions and participate in the coming 2018 elections not only as voters but candidates as well.