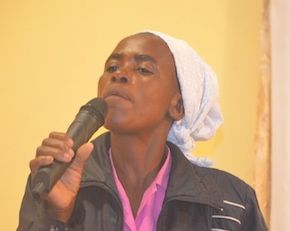 Myness Musaamba was an ordinary house wife before her community was displaced from Marange in 2010 to pave way for diamond mining activities. They were relocated to Arda Transau. Their traditional structures were destroyed in the process as the new settlement is structured as a semi-urban settlement. In the place of traditional leaders, a government appointed coordinator, a retired Major General who was not relocated from Marange, is now overseeing the community. He demands that any visitor to the community be 'introduced' to him before interacting with the community. Some community members have been cowed into submission.
However, one of the few who have dared to stick their necks out and speak out against the injustice her community is facing is Myness Musaamba. Since receiving training in community based monitoring from Chiadzwa Community Development Trust, Myness has consistently spoken out about the living conditions at Arda. She has also spoken publicly at numerous events such as the Alternative Mining Indaba held in Cape Town every February.
Myness' boldness and outspokenness has not escaped the watchful eye of the state. On Wednesday 23 September 2015, she also attended a community meeting called by the District Administrator for Mutare, Mr. Cosmas Sigauke. The DA then publicly chastised Myness for being an opposition activist and threatened that she was going to die in prison for allegedly speaking out against the government. A handful of pro-government community members also called for her to be arrested.
However Myness was undeterred and vowed to continue speaking out against injustice, in particular the failure by government and mining companies to honour their promises to the relocated families. She continues to play her duties as a mother and at the same time responding to community call of being a voice of the voiceless at a great personal risk to herself and her family.
Myness is a true Giraffe who chose to speak out in a militarized and oppressed community.