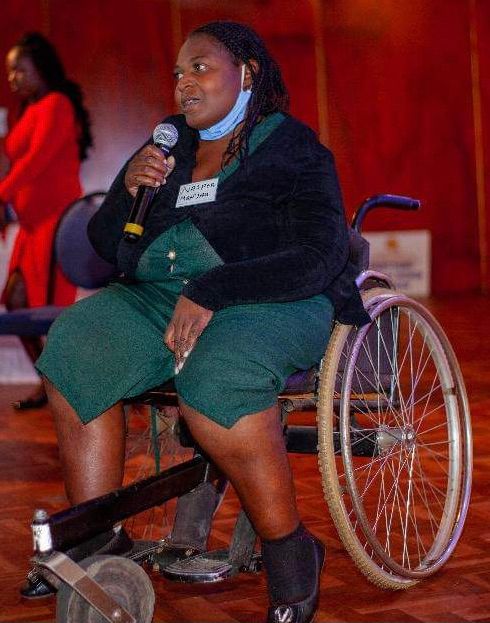 Summary: Nasper Manyau is a Senator and human rights activist in Zimbabwe who has been highly active in fighting for the support of People Living with Disabilities. She has been detained and jailed by the police whilst conducting her duties as a human rights defender, but that hasn't stopped her from carrying out her tireless commitment toward fighting for the rights of the disabled.
Profile: People Living with Disabilities (PLDs) in Zimbabwe have continued to suffer exclusion, and very few have come forth to fight for their cause. Worse still, the government hasn't been doing very much in providing adequate support toward the welfare of millions of people in the country living with disabilities. Many of them live in abject poverty and lack access to basic services such as education and health care.
A few activists, such as wheelchair-bound Nasper Manyau, have been the voice of PLDs. According to ThisAbility Hub, "Empowerment through education" is what Manyau believes is the key to financial independence and the empowerment of PLDs. It is through Manyau's commitment that on June 1, 2022, she was selected to represent the disabled in the Zimbabwe Senate, focusing on equal rights, equal access to education, and equal access to health services for PLDs.
Manyau's activism has come with a heavy price. In 2016 she was one of the protestors who besieged government offices demanding a better living wage for the disabled. She was arrested and jailed. She recalls: "I was jailed in 2016 together with other activists and endured cold nights at Harare Central, and that did not break my spirit at all. It is my responsibility to fight towards the betterment of PLDs in the country, and that is my duty as a Senator to ensure that is achieved."
Apart from fighting for the rights of the disabled, Manyau has also been leading a campaign pushing the government—town and City councils—to provide clean water to residents. Again, she emphasizes the disabled:
"People with disabilities face challenges in accessing safe and clean water in most urban centers, and I have been advocating towards the provision of such a basic right in the senate. As a result of my efforts, a number of boreholes have been sunk in several neighborhoods, thus making life also a little bit simpler."
Despite the many obstacles, Manyau maintains optimistic visions for the future:
"Imagine looking around seeing professionals with or without disabilities working together as equals in universally accessible environments that were crafted and designed with persons with disabilities in mind."