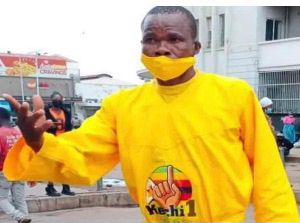 Summary Godfrey Karembera, popularly known as Madzibaba we Shanduko ("Prophet for Change"), is a Zimbabwean human rights activist and member of the Citizens Coalition for Change. He has displayed immense bravery amidst a government crackdown targeting journalists and activists who have been heavily critical of the government. Karembera has been beaten up and tortured by the police on numerous occasions whilst leading pro-democracy campaigns; he has served jail time at one of the country's most notorious prisons.
Profile: Zimbabweans will be going to the polls in 2023 to elect a new President in the midst of a political environment that has been getting increasingly volatile and dangerous. President Emmerson Mnangagwa's government has unleashed the police and state security agents to crack down on government critics as he consolidates his grip on power. It is against this background that citizens such as Godfrey Karembera, known as Madzibaba we Shanduko ("Prophet for Change"), have defied the "fear element" and continue to stand up against tyranny. They inspire millions of citizens who are anticipating change in the country.
On March 17, 2022, Karembera was physically assaulted, detained, and tortured by the police. Why? It is ostensibly because he was wearing yellow in public. Yellow is the well-known color of the Citizens Coalition for Change, the CCC, of which Karembera is a prominent member. According to the police, he was "dressing improperly". In addition, he was "engaging in unsanctioned political activities in the Harare Central District".
Karembera was taken to the Harare Central Police Station where he was assaulted:
"As we arrived at the police station, I was taken to a certain room where I was asked to lie down. I was beaten severely in that room by four people. As they were beating me, I accepted death. There was another one who covered my head with a sack and put his foot on my neck. He nearly killed me because I was suffocating. They first beat me on my feet and later took off my shirt and started beating me on my back."
The assault stopped only when two men who had seen the news of Karembera's arrest on social media intervened.
This harassment—and more—of opposition leaders is becoming more frequent in Zimbabwe. According to Amnesty International, "This brutal and vicious assault against Godfrey Karembera is meant to intimidate political opposition supporters in Zimbabwe ahead of the upcoming by-elections." The Zimbabwe Peace Project notes that between 2000 and 2020, 515 people were killed due to "politically motivated violence".
Karembera persists, however. As he says, "I have been beaten, tortured, and abducted by this evil regime for standing up against tyranny. I suffer from severe body pain ever since I was arrested and assaulted by the police. There was a time when I thought of giving up, but I came to realize that it is my duty as a citizen to inspire and motivate others to stand up against injustice.
"Recently," he continues," some men driving an unmarked vehicle tried to kidnap my child and this is a way of trying to instill fear in me .I am however extra careful and not going to give up the struggle for democracy and good governance in the country." .
"The fight for justice always comes at a price, and I will keep on fighting for change."
There has been an increase in state sanctioned political violence in Zimbabwe as the country gears for the forthcoming elections with three CCCs members namely Moreblessing Ali,Edson Chinembiri and Langelihle Zonda Dube having been killed in less than a month by ruling party ZANU PF supporters .