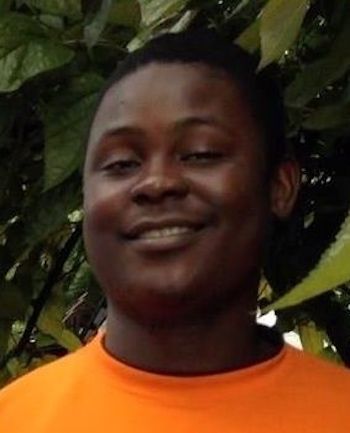 UPDATE
BREAKING NEWS—ANOTHER GIRAFFE HERO BEATEN BY GOVT THUGS AS ZIMBABWE CRISIS DEEPENS
Zimbabwe democracy and human rights activist (and Giraffe Hero) Tatenda Mombeyarara was recently abducted and beaten up by armed men for his antigovernment activism.. He was left with a broken leg and serious injuries. He's now charged with treason
HARARE - Lying on a hospital bed, the man in his late thirties, twitched and twisted his face, in pain as he showed the injuries all over her back to the few people who had come to visit him.
The man, Tatenda Mombeyarara, a human rights activist in Harare, began telling the story behind his injusires and subsequent hospitalisation.
A few days back, on a windy night of 14 August night, six armed men, suspected to be state securiy agents, had abducted and assaulted Mombeyarara.
This was two days before the opposition MDC was due to hold its demonstrations in Harare, and the incident, which happened on the same night when an MDC youth leader Blessing Kanotunga had met the same fate, was suspected to be the work of the State.
A coordinator at a pro-democracy civil society organisation, Citizen Manifesto, Tatenda appeared unfazed by the abduction and assault, and went to speak openly about the need for government to uphold human rights.
In a country where people are abducted in the dead of the night and nothing happens to the perpetrators, everyone lives in fear and self expression becomes a risk. But so resolute is Tatenda that from his hospital bed, he continued to give interviews with local and international media, reaffirming much the human rights situation has deteriorated in the country.
"The reality is that they have worsened. We are in a far, far much worse situation. So if we got sanctions because of human rights abuses, what should actually be happening is tightening those sanctions," said Tatenda in an interview with Voice of America.
This is not the first time the State has attempted to silence Tatenda, a man who has been actively organising citizens forums where people would speak about social issues affecting the country.
In May, after attending a workshop on human rights in the Maldives, Tatenda and six others were arrested and charged with treason. They spent weeks in remand prison before getting very tight bail conditions, which included reporting to the police daily.
That did not stop Tatenda. A week after his abduction and assault, he wrote for the first time on Facebook. "Hallo colleagues, friends, comrades and associates. Thank you all for the solidarity, moral and material support, prayers and good wishes. I underwent successful surgery and I am mending.
The death squad sent to destroy me damaged my body and bruised my soul. But then still I live! I am a proud Zimbabwean aspiring for a better Zimbabwe defined by peace, harmony, wellness, justice and democracy," he wrote.
Perhaps what kept him, and still keeps him going is the overwhelming local and international solidarity, as Zimbabwe once again slides back into the dark era of human rights abuses, and all that human rights defenders can rely on, is solidarity amongst themselves. Following a visit to the hospital to see Tatenda, the US AMbassador Brian Nichols tweeted, "The U.S. government is concerned about renewed reports of abductions and assault of civil society members and opposition party members. Harassment and intimidation have no place in a democratic and pluralistic society."
Original Story
"I am very passionate about labor rights and have been active since 2009 . This has led to confrontations with the state but that has not deterred me as I believe in fighting for the workers' struggle," said Tatenda Mombeyarara, a labor rights activist based in Harare.
Mombeyarara, a university graduate and Information Officer with the Food and Allied Workers Union (FAWU) has been active in demanding better working conditions for Zimbabweans. Especially during events like May Day and World Teachers Day, Mombeyarara has been instrumental in mobilizing and addressing workers .
"I was severely assaulted on the 1st of May 2013 during International Workers Day celebrations and was briefly detained at the police station," he said. "I will keep on standing up for workers rights and won't be deterred."
He added that workers in Zimbabwe were being deprived of their rights because employers and the government are engaged in unfair labor practices.
"The government and employers in the private sector are ripping off the workers as they are offering poor salaries and working conditions," he said. "This is unfair; there is need to improve the welfare of the workers."
In 2011, Mombeyarara together with prominent labor lawyer Munyaradzi Gwisai and six other activists endured some six months at Harare remand prison following trumped-up treason charges .This was after they were found watching a video of the 2011 Arab spring revolution which toppled Maghreb strong men Muamer Gaddafi of Libya, Mohamed Ben Ali of Tunisia and Hosni Mubarak of Egypt.
Besides labor activism, Mombeyarara is involved in human rights work and has been involved in campaigning for the scrapping of pre-paid water meters in the capital, Harare.