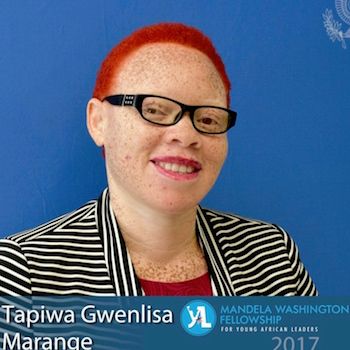 Summary: Tapiwa Marunge, an albino living in Zimbabwe, founded Albino Alive in order to educate people about albinism and to help albinos who have traditionally been persecuted because of their condition. Marunge herself has faced hostility from people who see albinos as cursed, who believe that albino women who have sex with HIV-infected men will cure the men, and who do everything they can to isolate and threaten albinos.
Profile: Albinism in Africa is regarded as a curse; many children living with the condition have either been killed by family members or sold off for ritual purposes. In Zimbabwe, women and children living with albinism have been raped by HIV-positive men who have been tricked into believing that the disease will vanish after sleeping with an albino.
In a bid to demystify albinism and promote equality of people with albinism, Tapiwa Marunge, an albino herself, founded Albino Alive. Under the auspices of the organization, she has toured the remotest parts of the country to help people understand the condition and has even rescued several children from abuse.
"Some people say we are a curse," states Marunge. She adds because of this attitude, many albino children stay away from school to protect themselves. And even then they may not be safe:
"I have had challenges with family and community members who still regard albinism as a curse and are totally against our work in assisting the people and children with albinism. Last year in rural Masvingo we were chased off at some homesteads while trying to rescue children with albinism."
"Our work with Albino Alive," she continued, "includes mobilizing sunscreens and foodstuffs which have been distributed to people living with albinism."
Marunge has also represented Zimbabwe at the first ever albino conference in Tanzania. Tanzania and Malawi have experienced murders of albinos, and the conference sought to find solutions to combat stigma among people living with albinism.
The stigma extends to many societal traditions. For example, says Marunge, "We go to most companies in search of employment, but they shun us because of the condition we have. Some give us work, but they do not pay us. . . . In-laws do not accept daughters-in-law with albinism. If you are married, our husbands abuse us, saying it's a favor that they married us. Witch doctors advise men living with HIV and AIDS to look for women with our condition for them to get healed."
Marunge travels a hard road, but she is making progress—and hopes to make more.