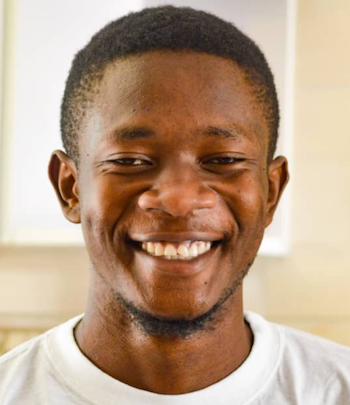 Summary: University of Zimbabwe student activist Allan Moyo says his 74-day imprisonment has only sharpened his resolve to fight for a better Zimbabwe. The 23-year-old was arrested on December 7 last year and charged with inciting public violence against President Emmerson Mnangagwa's government. He was released on ZW$10,000 bail in March.
Profile. After enduring a 74-day imprisonment ordeal in one of Zimbabwe's dilapidated prisons at the height of the Covid-19 pandemic, student activist Alan Moyo says is more determined to fight for the people's rights and freedoms.
Moyo said the Covid-19 pandemic has worsened the welfare of students who have been pushed to study online without any resources being provided by the government.
"Students have not been spared by the Covid-19 pandemic and in the process an online system of learning has been introduced, however, not all students have access to electricity, communication gadgets, mobile network and the paraphernalia of online learning. This is just a show of how elitist tertiary education has become.
"The freedom of expression and the freedom to associate has been stifled rigidly with some institutions banning student unions totally. This has removed the only vent for students to air out their grievances," he told Giraffe Heroes Zimbabwe.
Moyo said the only way to resolve these grievances is through opening up the space for dialogue so that a careful and thorough scrutiny of each and everything that happens at an institution has the voice of the majority.
"Students are a cross-section of the population of Zimbabwe. Therefore, they're a barometer on the wellbeing of the nation. My main role is to identify issues affecting the people and stating them as clearly as possible so that the relevant ears hear and act upon them."
Moyo's time in prison helped him understand a broader set of injustices.
"The conditions in Zimbabwean prisons are toxic," he said. "My experience, like that of any other prisoner, was a mixture of poor sanitation, exposure to various illnesses including Covid-19, a terrible routine and poorly cooked food. You can't have 85 prisoners in a cell designed for 30 and equally so you can't have 530 D class inmates having only 3 showers. Everything about the prison system needs to be changed if they are to be habitable for human beings."
"However," he said, I must note that (my time in prison) was a time for reflection—a time when I got to understand the hardships our people face from my interactions with fellow prisoners."
"I spent 74 days in Remand for allegedly inciting public violence after calling for a revolution in Zimbabwe. The arrest only served to motivate me to fight more as I learned of the material conditions of the most downtrodden of people who fail to make even one meal a day and are driven to crime."
"The chief reason for my activism is patriotism, the love for my nation and compatriots, said Moyo. "I want to see my folks with a decent life without the insecurities of the most primordial of issues. To see those who work hardest get most without any discrimination according to race, tribe or political affiliation."
"Even If my detention was extended to 1,000 days, I would definitely continue expressing myself and fighting for people like myself. The only way for me to stop is when the abuses, poverty, corruption, and misrule are dealt with," said the vibrant student activist and current chairperson of the Poverty Liberation Movement.
Moyo, who comes from a humble and decent family in Harare's suburb of Sentosa, says he has no intention of taking up any leadership position in Zimbabwe's divided opposition political space."I have no intention of being a political figure," he said. "I am more vested in issue identification, issue articulation, and problem-solving".