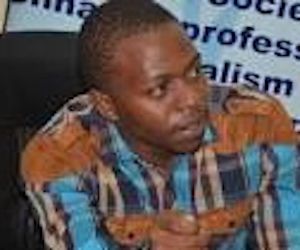 Summary: At a University of Zimbabwe graduation ceremony attended by the country's president, student Tonderai Dombo held up a placard protesting the lack of jobs (Zimbabwe's unemployment rate is about 90 percent). He was immediately arrested, detained overnight, fined, and—at least temporarily—denied his graduation certificate. Tombo has been a student protestor for years, despite the obvious risks involved in speaking out.
Profile: It's now customary during university graduation ceremonies in Zimbabwe for police to systematically search the students. But the police aren't necessarily looking for guns; they're searching for a less violent type of weapon—placards.
That's because of what Tonderai Dombo did on September 29, 2016. President Robert Mugabe was officiating at the University of Zimbabwe graduation ceremony when Dombo, a graduating student, raised a placard protesting the lack of jobs for graduates. It read, "Graduate Today but Loafer Tomorrow. Education may be the key to success but the door is nowhere."
Mugabe's bodyguards immediately whisked him away. Later, the police charged him with being a public nuisance, detained him overnight, and finally released him after he paid a fine. Perhaps worst of all, university authorities said that they would be withholding Dombo's degree; the Minister of Higher Education, Jonathan Moyo, stated that Dombo did not deserve to receive his degree since he embarrassed the President.
Dombo is not new to this. As president of Youth Advocacy for Reform and Democracy, he's been protesting the dearth of jobs in his country: Zimbabwe's unemployment rate hovers around 90 percent. Many parents in Zimbabwe have been investing heavily towards their children's education and the country is regarded as one of the most literate in Africa; its universities graduate thousands of students—but a college education doesn't do you much good if you can't get a job after you graduate.
Dombo has a history of activism—and many followers. He was instrumental, for example in mobilising students across Zimbabwe against attempts by tertiary institutions to hike fees when the majority of students are struggling to make ends meet (they do not receive any loans or grants from the state). Through his 'Fees Must Fall" campaign, he successfully lobbied government to postpone fee hikes in universities and colleges.
And his own graduation? "I'm still battling to get my certificate," says Dombo, "and I will get it. Withholding it is unconstitutional."