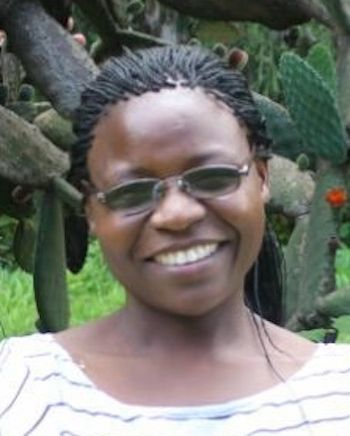 Summary: Agnes Chindimba is the founder of Deaf Women Included—DWI—a nonpartisan organization that champions the lives of deaf people in Zimbabwe. Through DWI, Chindimba has organized training programs, mobilized resources for the deaf to start small businesses, and educated them to be able to register to vote. During this time, she and her colleagues have been harassed by local police who don't want them recruiting voters.
Profile: Life is not easy when you're deaf. Agnes Chindimba certainly knows that; she's been deaf since she was 14. But Chindimba sees her deafness more of a calling than a handicap; she advocates for other deaf people in Zimbabwe. And deaf people are particularly vulnerable around election time.
"If you are deaf," she says about voting, "you struggle to understand things, as there are usually no interpreters." And the campaigns are no less difficult: "I would want the person I would be giving my vote to involve me in his/her campaigns by providing interpretation services at rallies so that I can make an informed decision."
Everywhere she looked in the disabled community, Chindimba saw need. So in 2013, she founded Deaf Women Included—DWI. "We are a membership-based organization," says Chindimba, "and so far I have helped establish a number of initiatives across the country." It's all in the name of inclusion—helping deaf people become a part of the larger community.
There are, however, obstacles. Chindimba and other DWI members have risked assaults from police officers who don't want her organizing voter education campaigns: "There have been cases of harassment of our members by municipal police officers who demand bribes.I myself have been harassed in the Central Business District whilst working with some of our members. We have been working toward peaceful engagement so that deaf people conduct their work in a conducive environment."
Chindimba also points out that deaf people are especially affected when violence breaks out: "If you are deaf, you wouldn't know what is going on until it is too late."
Agnes Chindimba has become a sparkling example of triumph over adversity. Facing frequent misunderstanding and occasional hostility, she has put on training programs, collected money from donors to help deaf people start small businesses, and of course mobilized them to register to vote.
She is deaf, and she is strong.