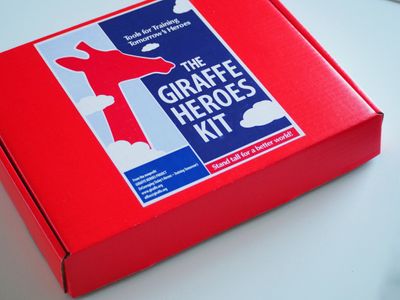 The Giraffe Heroes Kit
For classrooms and after-school programs
In this Kit, you'll find everything you need to guide 8-to-14-year-olds through well tested steps for:
learning about real heroes,
finding real heroes in their own world and
becoming heroes themselves as they create and carry out a community service project.
Join hundreds of other teachers, and get started now!
$79.95
Your kit includes:
Teacher's guide with ready-to-use lesson plans
DVD with classroom handouts and letters home
Videos of real Giraffe Heroes' stories and examples of kids' community service projects to inspire your classroom
Deck of Giraffe Hero "trading cards"
101 short scripts about Giraffe Heroes
Sheet of beautiful Giraffe Hero stickers
Bag of "Stick Your Neck Out" campaign buttons
Remember that our searchable database of real heroes is always free!