Summary of Giraffe Educational Programs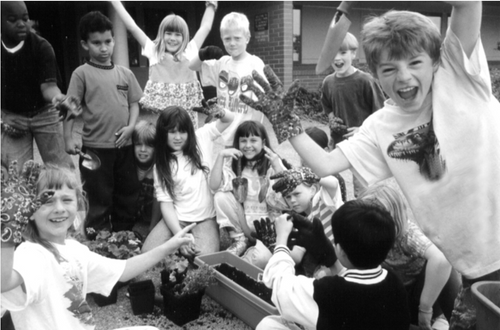 In classrooms all across the United States and in English-speaking schools abroad, Giraffe K-12 programs help students build lives as courageous and compassionate citizens, while teaching academic and life skills. In launching its K-12 programs, beginning in 1991, the Project was a pioneer in creating the concept and Best Practices of what came to be called "service learning."
The basic progression in all Giraffe programs is:
~ Hear the Story—Students listen to, watch or read the inspiring stories of Giraffe Heroes—the exceptional people honored by the Giraffe Heroes Project for sticking their necks out for the common good.
~ Tell the Story—They find such heroes in books, in the media and in their own communities—and tell the stories in class.
~ Be The Story—Full of examples of civic involvement, they decide on a public problem that needs fixing, organize and carry out a service project to fix it—and become their own story of brave and compassionate action.
The "learning" in "service learning:" Recognizing that inspiration needs to be combined with skills-building and practice in order to be effective, the Project designed its K-12 programs to give kids meaningful opportunities from kindergarten on up to assess needs in their schools and communities, then design and carry out service projects that help meet them.
As they take on their projects, students learn and practice skills in language arts, social studies and math. They also learn and practice critical thinking skills, as well as the skills of civic engagement such as planning, working in teams, fundraising, resolving conflicts, speaking in public, campaigning for their cause, making good decisions and taking responsibility. They use democratic processes to campaign for their causes, to choose which one they'll work together on, and each contributing what they do best to the team effort.
With funding from the Kellogg and two dozen other foundations, the Giraffe Project spent 10 years and over a million dollars creating and distributing K-12 programs that remain the gold standard for service learning worldwide.
You'll find an entire section on service learning, including examples and Best Practices, here.. The same resource in Spanish is here.
Civic Engagement. We also describe Giraffe K-12 programs as "civic engagement," to emphasis their role in helping kids become courageous and compassionate citizens. By guiding kids through real-world experiences in participating actively in civic affairs— starting in the schoolyard and extending out from there—the programs let kids see the positive difference their actions can make in their communities. They learn that they are valuable members of society now and can live their entire lives as involved citizens.
In an age when so much is thrown at kids that's confusing and threatening, Giraffe K-12 programs give kids something to say Yes! to. They move beyond self-involvement. They see themselves not as objects but as subjects and agents of positive change. Their lives gain meaning from participating actively in their schools, neighborhoods and communities. Taking part in a Giraffe K-12 program gives young people confidence, and 21st century skills; perhaps most importantly, it gives them hope.
Character Education.Giraffe programs are value-based, and fit well into any kind of character education. Education Week, the newspaper of record for educators, has called Giraffe K-12 programs, "the ultimate character education."
Literacy Training. Voices of Hope, a key component of our range of programs, is used as a literacy training tool all over the world, especially in teaching English as a second language.
Giraffe K-12 programs are all sound pedagogy, using the power of story to engage young hearts and minds, constantly drawing forth their own concerns, creativity and altruism. Throughout the process, they find and use the many academic skills they need to achieve goals they've set for themselves. Student-centered learning just makes sense to us, as does the basic psychology of the Hear, Tell, Be sequence.
"The Giraffe Heroes Program has an impact like nothing else does. It's not just something they've memorized—they are learning to live it. This is powerful, powerful stuff."— Sandra Barbaro, Fulmar Road Elementary, Mahopac NY