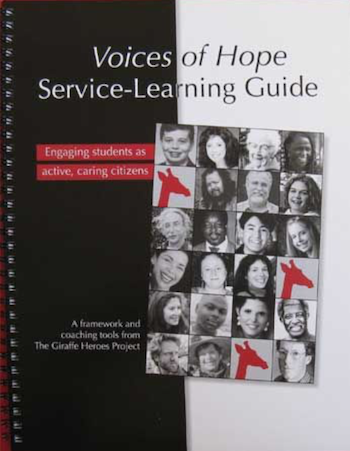 The Voices of Hope Service Learning Guide
The Voices Hope Service Learning Guide is a helpful tool for people from middle school kids to adults.( It is now being translated into Spanish.) It contains a concise, easy-to-follow, seven-step process for designing and completing a successful service project: Choose the Problem—Research the Problem—Decide on a Project—Create a Vision—Make a Plan—Take Action—Reflect, Celebrate and Begin Again, The Guide is now being translated into Spanish.
Giraffe Heroes' stories inspire many kids to move from "Why bother?" to "How can I make a difference?" The Service Learning Guide provides a step-by-step process for moving from thinking about the public problems, to successfully completing service projects that address those concerns. As they take on projects, kids not only learn and practice 3-R skills, they also learn the skills of civic engagement—to plan, work in teams, fundraise, resolve conflicts, speak in public, make good decisions and take responsibility.
Guiding kids into courageous, caring service can change their attitudes—and their lives. It's easy for teachers, youth leaders and parents to use, containing easy-to-use lesson plans and skills-building materials.
You can buy it here.
Teacher Feedback:
"Students are beginning to learn that perseverance is required for real life—they want to keep their service projects going. They demonstrated caring and taking responsibility. As teachers we felt empowered by the stories that raised such awareness in our students."—Carol McCaig and Cathy Malloy, Juanita Elementary School, Kirkland WA
"Voices of Hope stories give students power and a realization they can make a difference; after reading them, students were inspired to take a more active part in what is going on in the world. Students were taking personal responsibility and solving problems; we had double or triple the number of students running for Student Council this year than last... Voices of Hope has enriched student service programs, which now include a "Bully-Free program, fundraising for local charities and for tsunami relief and keeping the schoolyard clean from messes made by seagulls."—Barbara Conti, teacher, St. Stephan School, San Francisco CA
"Voices of Hopeis a powerful program that provides everyday models for making a difference in communities across America and beyond… Voices of Hope supports young people having greater life choices in their future and in contributing to a more hopeful future for us all." —Dr. Martin Laster, former Alaska School Superintendent of the Year