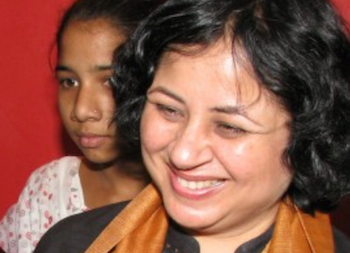 When Kiran Martin got her medical degree in 1985, a comfortable life awaited her, attending to the children of families who could afford to pay for her services.
But her life changed when she volunteered to provide medical assistance to residents in a Delhi slum during a cholera epidemic. Martin gathered up what supplies she could, set up a borrowed table under a tree, and opened a free medical office for the poor.
The experience affected her so deeply, she decided to "go big" by founding a nongovernmental organization called ASHA. "Asha" means "hope" in Hindi, and she made it an acronym for "Action for Securing Health for All."
The "all" part is significant: Martin has had to fight a cultural tradition of castes and disregard for women, repeatedly taking stands against the "old guard" to create services that indeed benefit all. Tense encounters with politicians, patriarchs, and criminals haven't deterred her. Nor have the bad conditions of life for the poor. Martin dives right into it all, just as she did under that tree.
"ASHA's philosophy," says Martin, "is to be right there in the heart of the slums, right in the midst of the garbage and the dirt and the bad sanitation, so that we can be relevant and we can serve the population and have the maximum impact."
Martin soon realized that the poor needed far more than health care; they also needed education, sanitation, infrastructure, finances, and, perhaps most basically, equality.
The net of assistance she has spread goes wide and moves others into action. She identified and trained women to become community health volunteers, taught children leadership skills so they could advocate for their communities, set up mentors and internships to help students get jobs, and secured financial aid from banks and the Indian government.
Because she gives talks all over India and in Australia, the United Kingdom, and the United States, other organizations know ASHA's strategies and can replicate them. While ASHA has benefited more than 500,000 people in Delhi alone, it's contributed to the health and welfare of untold millions around the world.
"My take," says Martin, "is that, you know, every setting has its own set of challenges, and I think . . . if the will is there, then people can put their heads together to face these challenges and find ways out."