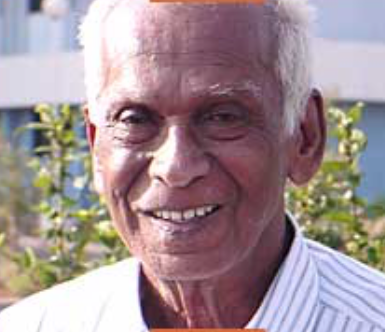 He could have retired. For 20 years, he'd been head of the Department of Ophthamology at both a college and a hospital in India. He'd contributed to research and mentored others. Even though his fingers had been crippled from rheumatoid arthritis when he was young and he used custom-made instruments for the rest of his life, he'd still performed over 100,000 eye surgeries. And he'd established mobile clinics in rural areas of India. It was 1976, and Dr. Govindappa Venkataswamy-"Dr. V." was 58, the mandatory retirement age.
But he didn't retire; far from it.
Dr. V. knew that in India 12 million people are blind, most of them victims of cataracts. He was also aware that many of India's afflicted couldn't afford cataract surgery. So instead of retiring, Dr. V. mortgaged his house and founded the Aravind Eye Hospital in Madurai, India. The hospital started with 11 beds and four medical officers. In the first year of its existence, Dr. V. himself performed 5,000 surgeries. That's nothing: Today Aravind is one of the largest facilities for eye care in the world; its surgeons perform over two million surgeries a year. The 30% of the patients who could afford to pay, paid for the patients who couldn't pay.
Dr. V. found out that although the lenses used in cataract surgery cost over $150 a pair to purchase, they cost only $10 a pair to manufacture; so he and a friend opened a lens factory-Aurolab. Aurolab went on to produce 10 percent of the world's supply of replacement lenses, in addition to other ophthalmic products. With this income, Dr. V. could afford to give far more of India's poor the eye care they needed. And opened five more hospitals in southern India.
So there are at least two stories here. One is the economic model by which Govindappa Venkataswamy provided care for very low cost; it's a model that has since been copied by other institutions around the world. The other story is the way in which millions of people can see again, whereas before they had no hope. That, too, is a model that has been copied by humanitarians the world over: someone who's humble and selfless dedicating his life to helping others.
Dr. V. himself said, "We can all serve humanity in our normal professional lives by being more generous and less selfish in what we do. . . . Intelligence and capability are not enough. There must be the joy of doing something beautiful."
Dr. V. must have been very joyous indeed.
UPDATE: Dr. V died in 2006.
Click here for website about Dr. Venkataswamy