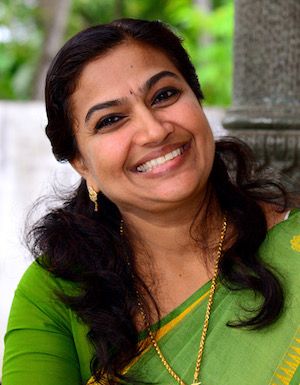 Mary Anitha gave up a comfortable career and risked her health to assist disabled children in Kerala, India.
When Anitha was interning as a journalist in Hyderabad, she spent time assisting at an institution there for disabled children. It was a high-end, amply funded service but Anitha saw how even there, the children craved loving attention. She began thinking of disabled children whose families couldn't even afford such a place, back home in Kerala.
She earned a Master's in Business and a Doctorate in Management, and was enjoying a successful career in business, when she contracted tuberculosis. She quickly discovered that Indian society—the formal government as well as the informal culture—does very little to support people with tuberculosis, just as little is available for disabled children.
Her attention turned back to such children. When she had regained a level of health, she took 65 of them on a field trip, which wasn't quite legal, risking arrest if any of the children had been injured. It mattered to get the kids out into the world, Anitha felt, in a society that preferred they be invisible.
Anitha quit her job to devote all her time to repairing the situation, despite the strain on her health and the occasional stretching of laws. She sold all her jewelry to finance opening CEFEE—the Centre for Empowerment and Enrichment—which now helps hundreds of thousands of people throughout Kerala. As CEFEE says on its website, "Our first and basic aim is to enable the disabled."
And that it does. Anitha and CEFEE bring children to mingle with other members of society; to celebrate holidays; to experience banks, hospitals, courts, police stations, and theaters; to take art classes—all to enrich the children's lives and assist their families.
Anitha currently runs four projects:
"Uniquely Me," which coordinates Children's Day every year (featuring film celebrities, entertainment, gifts, food, and sweets);
"Jyothi," which provides the disabled with disability cards, concession cards for transportation, and government scholarships;
"Break the Silence," which educates people about child abuse; and
"Love, Care, Respect," which provides food, medicine, and clothing to people in homes for the elderly.
In just one typical month, CEFEE delivered 1,604 railway concession cards, 874 bus concession cards, 73 scholarships, 32 computers, 36 wheel chairs, 8 cerebral palsy chairs, 2 eye-hand coordinators, and 4 exercise machines.
Anitha continues to work without a salary, combating the lack of regard for the disabled. She's making changes, both in the culture and the government, modeling compassion and lobbying for better regulations and support.