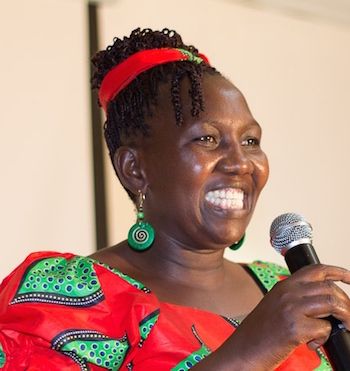 Angeline Obutu is a widow and a mother of five children, two of whom are adopted. She runs a charity home for over 400 HIV infected families. Her initiative began as a HIV awareness programme but she has taken it to the next level and now she supports widows and orphans.
It is the love, patience and optimism that she extends to the women at the centre that makes her offer a second chance to them; even when the world has shifted its focus from these groups of people who are silently scorched by stigma. Her joy is when she is offering support to the less fortunate.
She previously received support from external donors but now has to depend on her little savings. Angeline is so dedicated to the lives of the people she takes care of that she gets traumatized when she has to helplessly watch them die.
Giraffe Heroes Kenya wishes to recognize Angeline Obutu for 'sticking out her neck' for the common good and her desire to lighten the loads, strengthen the hearts, and improve the lives of those in her circle of influence.