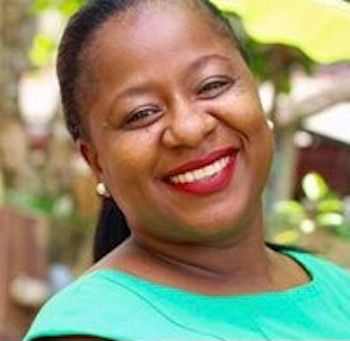 Summary: Asmaa James is a Sierra Leonean journalist and station manager for Radio Democracy and a presenter for "Gud Mornin Salone", the most popular radio program in Sierra Leone. She promotes women's rights and battles against rape and other forms of sexual violence. James founded the Asmaa James Foundation during the aftermath of the Ebola epidemic; the foundation provides support to girls from disadvantaged backgrounds by giving them access to reproductive health education, scholarships, mentoring, and training in life skills.
Profile: Asmaa James has been a journalist in Sierra Leone for over two decades. She is currently the host of the "Gud Mornin Salone" program, which promotes human rights and hosts guests from every walk of life. James creates opportunities for these guests to discuss current affairs and issues ranging from human rights to social justice. Over the years, James remains fearless in her discussions of controversial topics on the air, creating safe spaces while strengthening democratic governance.
In December 2018, James initiated the "Black Tuesday" campaign to protest the rise of rape and abuse of girls under 12. The campaign encouraged women to wear black on the last Tuesday of every month, which raised awareness of violence against women. Black Tuesday influenced the decision of the sitting president of Sierra Leone to declare a state of emergency on rape and reform policies surrounding sexual violence.
James remembers when she started the campaign: "Black Tuesday is an initiative which came up after my heart captured a five-year-old girl who was sexually penetrated through her anus and paralyzed, coupled with the fact that I get to come across the news about rape and sexual penetration every day in my program, which is distressing."
As a journalist, James continues to use her voice and platform to raise awareness and advocate for improving the lives of women and girls in Sierra Leone. In addition, she often exposes corrupt practices, putting politicians in the spotlight even when she is subject to vitriolic and at times life-threatening attacks from sympathizers of those politicians.
"When you have public officials who think the world is in their hands," says James, "and therefore should not be questioned, they see you as a threat. Attacks and threats are inevitable in my practice as a journalist."
But that does not deter James in the slightest. She is also a philanthropist, running the Asmaa James Foundation with her own personal resources to alleviate poverty and raise the dignity of Sierra Leoneans, particularly women and girls from marginalized backgrounds. The Foundation provides them access to reproductive health education, scholarships, mentoring, and training in life skills. One of its activities is the "Girls+ Project," driven by community interventions aimed at providing access to adolescent sexual education. Similarly, the "Another Chance Project" was designed to focus on schoolgirls that have experienced early pregnancies and to facilitate support systems that will increase the chances of these girls to return to school.
Asmaa James soldiers on—exposing corruption, spreading helpful information, and trying to ensure that girls and women in Sierra Leone get the freedom from violence and the opportunities they deserve. She does so despite the attacks from people who would prefer that she just keep quiet.