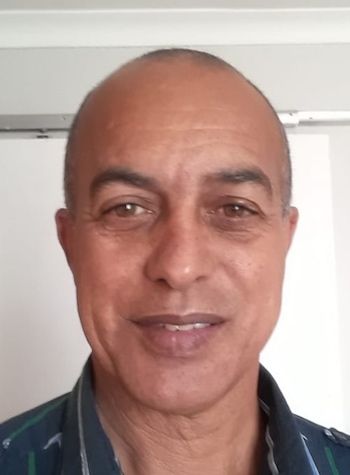 Thumbnail: Aubrey Robinson promotes leadership, active citizenship, and physical fitness among young people through cadet training in Cafda Village, a community rocked by poverty and violence, 21 kilometers southwest of Cape Town. In his efforts to fight gangsterism, youth unemployment, early pregnancy, and violence, Robinson formed the Cape Town Youth Cadet in June 2019. In addition, he runs a Community Advise Office at the back of his yard where he offers free consultancy service to members of his community
Profile: Aubrey Robinson works as a development specialist for Alps Resilience, a local non-governmental organisation. But for over two decades, he's been the face of Cafda Village, providing a range of support services to residents of all ages. Operating from the back of his yard, Robinson opened the Community Advise Office, where he offers free consultancy service to community members: "I don't need payment from anyone who I am assisting; just a thank-you note is fine for me."
Robinson writes and interprets letters for the old and illiterate, organises and participates in meetings on behalf of members, intervenes in labor disputes, assesses the service delivery situation in the community, and assists residents who are in arrears.
In June 2019, on seeing the level of indiscipline, drug abuse, crime, violence, and risky sexual behaviour among youth leading to early pregnancy, Robinson formed the Cape Town Youth Cadet.
"Society has changed so much, and discipline and respect among the youth has drastically changed," he says. In addition to the drilling exercises that instill discipline and physical fitness, the cadets receive sessions on life skills, reproductive health, religious tolerance, dangers of substance abuse, and security.
By keeping the young people busy with productive work, Robinson effectively manages to keep this vulnerable group away from drugs, gangsterism, and risky sexual behaviour. Today, the Cape Town Youth Cadet runs two centres, in Retreat and in Lotus Valley, with 145 members.
Those cadets who successfully complete the training can get recommendation letters, which will allow them to enter the job market. Those who finish matric will get references on their progress and achievements, which they can add to their curriculum vitae for entering the job market.
Running a community advisory centre and a youth Cadet is not easy. It requires sacrifice and dedication. Apart from the financial support he gets from some community members, Robinson uses his own money to run the youth Cadet and the Advise Office. When others relax with their families after work and on weekends at Cape Town beaches, Robinson rushes to the Advise Office and on Saturdays attends the youth Cadet.
"At times I have to take annual leave days to attend meetings on behalf of community members," he says. "I only attend Cadets training on a Saturday unless I have meetings during the week on behalf of the Cadets Organization.
I am also giving up family time to pursue my community work. Fortunately, my family knows my passion and leaves me to do my community work."
Dropping out of school at a young age in order to support his family, Robinson refuses to allow his level of education to distract his vision for a better society: "I am not an educated person, as I had to leave school early to work to put food on the table. But that didn't stop me from doing good to my fellow community members.
And there are risks: activists like Robinson are often attacked by hitmen in South Africa. Though he has not experienced any outright attack by gang members for challenging and criticising gangsterism in a community dominated by gang members, the future is unpredictable. Overzealous gang members are a threat to his life, and can attack him for encouraging young people to join his Cadet.
In addition, by challenging some employers for labor abuse, Robinson exposes himself to attack and enmity.
But Aubrey Robinson doesn't stop. "When a community member's problem is addressed, I am the happiest man you can get," he says.