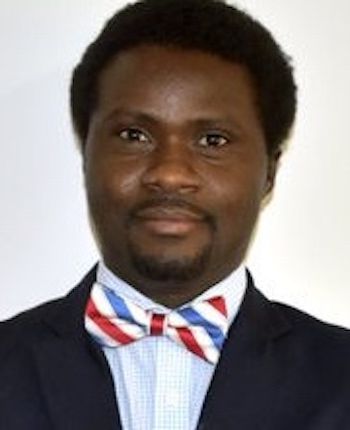 Update as of August 12, 2021. AUGUSTINE SORIE SEMBEH MARAH
Through October, 2020, Giraffe Hero Augustine Sorie -Sengbe Marrah continues to seek justice for his fellow citizens despite the many hurdles he continues to face. He has now been found guilty of criminal contempt after challenging a ruling by the Supreme Court of Sierra Leone on 26th October that charged him with "unprofessional misconduct" following his failure to appear before the Court after his social media posting which the Court referred to as "contemptuous and demeaning to the sanctity and integrity of the Court."
Marah had this to say regarding the judgement: "In my opinion, politics has yet again been elevated above the law in yesterday's judgement by the Supreme Court. This is egregious chipping away of the sanctity of the law. We raised this same eyebrow when the Vice President's illegal sacking was judiciously laundered. Less than half a decade later, chickens are coming home in droves to roost. Only those allied with politics and self-serving interests will be jubilating, those of us on the side of the law will weep for posterity. Weep we will, but dither we will not".
Despite this action against Marrah, he still continues to challenge national issues. He continuously sticks his neck out no matter the odds.
Original Story: Summary: Augustine Sorie-Sengbe Marrah is a dedicated activist lawyer, a leading advocate for human rights and democracy, and a persistent campaigner for the rule of law. Intimidation, threats, and public shaming have not deterred him from defending and speaking up for his people. Through his blogs and his chairmanship of the Renaissance Movement, he provides free counsel for activists and consistently writes about issues affecting all Sierra Leoneans, but especially the poor.
Profile: Augustine Sorie-Sengbe Marrah believes in human rights. His journey started about a decade ago after a short stint at the Special Court for Sierra Leone in 2009. The following year, he obtained a Masters in Human Rights Law and Democratization from the University of Pretoria's leading centre on human rights education in Africa. That was the dawn of his burgeoning interest in issues of democratic governance, rule of law, and human rights. Over the past few years, Marrah has written—in blogs, on Facebook, and elsewhere—about these issues, and in particular about how they affect the poor.
A practicing attorney and a member of the Sierra Leone Bar Association, Marrah makes no secret about his views—either to government officials or to the public at large. On September 18, 2013, Marrah wrote an open appeal letter to former Chief Justice of Sierra Leone Abdulai Cham to constitute panels for constitutional-rights cases before the Supreme Court. In the letter, Marrah noted that the issue borders on "fundamental rights and freedoms" that "are the very bedrock of a free and democratic society".
Marrah also heads the Renaissance Movement, a nonpartisan group that aims to break the cycle of poverty and provide justice for the poor. Through the Movement, Marrah has helped—with no charge—bail out activists who have been imprisoned. His writings have inspired others to pursue similar causes.
Marrah's views, of course, have not gone unnoticed by his opponents. He has been threatened numerous times, particularly when he publishes articles on human rights, rape, and the unfairness of the judicial system. He lost a prestigious job as a board member of Sierra Leone Cable Ltd., which many considered a result of his activism. And, he says, recalling his own financial situation, "There are times I have worried about my next meal, electricity, transportation, ever since I was a student leader a decade ago, and this hasn't stopped."
But he persists: "I have tried my best to help many citizens who have been either denied the right to exercising their constitutional rights or arrested for same, including women battling with human rights violations. This is totally undesirable in this time when the country's 1991 constitution guarantees citizens of fundamental rights, for which the state is under obligation to enforce."
Threats or not, Marrah has been recognized as one of the 10 Most Influential Sierra Leoneans. He made the list alongside the First lady of the Republic of Sierra Leone and two other Giraffe Heroes—lawyer Basita Michael and social activist Ishmeal Charles. "I feel honored," he says, "and won't be stopped or forced to quit human rights work."
That is certainly good news for his fellow Sierra Leoneans.