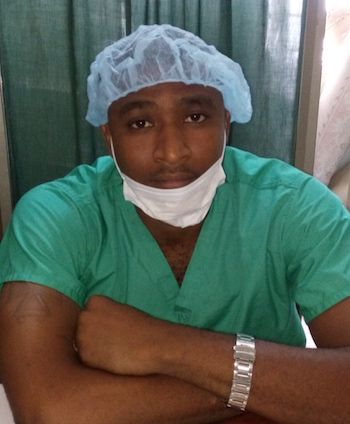 Summary: Sierra Leone Army Doctor Billy Sankoh was one of the first physicians to work at the country's new Ebola Treatment Center. The Ebola virus was raging throughout the country, and Sankoh oversaw hundreds of dying patients, including his fellow doctors. Every day, Sankoh risked his life in order to treat the people in the Center. He also stayed away from his family because he didn't want to infect them. Through it all, Sankoh survived. After a year, the epidemic diminished and Sankoh could leave the Center to rejoin his family.
Profile: Much like soldiers, doctors sometimes have to risk their lives to help save others. That is exactly what Sierra Leone Army Doctor Billy Sankoh did for over a year when he worked at the first Ebola Treatment Center in Freetown.
By September 2014, the Ebola virus was raging throughout the country, with dozens of patients being admitted to the Center every day. As a result the doctors' lives were increasingly under pressure—from their patients, from their patients' families, and from their own families: Ebola spreads fast, and doctors are not immune.
"During my first two weeks at the treatment center," said Sankoh, "these were times when the disease infection rate was [increasing], and many doctors were also getting infected and dying . . . even though I knew that anything could happen to me at any time, I had no choice but help . . .."
It was not a fun workplace. Many of the incoming patients were in the "wet stage", showing signs that included bloody stool, vomiting, and bloodshot eyes. And soon Sankoh's immediate supervisor and close friend, Komba Songu M'Briwa, became infected as well. Five other doctors had already died from the virus. Sanko was the doctor responsible for treating other doctors who caught the Ebola virus.
And this is where the courage really kicks in. Sankoh recalls taking care of M'Briwa: "At that time, I had no choice but to be with him and treat him accordingly, mainly because M'briwa was my boss and friend and we have worked tirelessly together since the outbreak of the disease. I was so afraid . . . thoughts of getting infected myself soared in me, but I could care less, as I thought deeply that I was fighting to save my friend and my country."
Besides being in constant fear of his life, Sankoh made the decision to stay away from home; as much as he yearned to see his family, he did not want to infect them. And so it went: Sankoh stayed at the Center, treating those he could, including M'Briwa, who eventually became the only medical doctor to be infected with Ebola and live to tell about it.
The epidemic abated in the fall of 2015, and Sankoh finally returned home. He was promoted from Lieutenant to Captain, and he now works in the maternal wing of the military hospital in Western Freetown. His recollection of the year he spent at the Treatment Center is one of " . . . mixed feelings, largely because I witnessed the death of most of my fellow doctors and that was hard for me. Also the Ebola experience has made me stronger than before, because with all the deaths and infection rates, I survived."