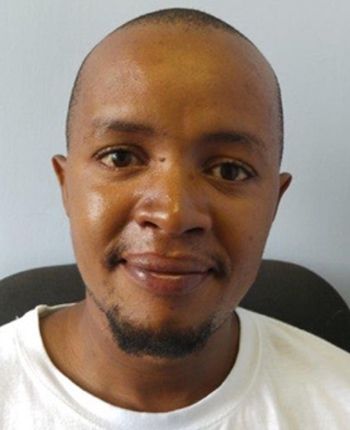 Summary: Brown Lekekela, a community volunteer and human rights defender, fights for gender justice and children's rights in Diesploot, 21 km north of Johannesburg. In 2013 he opened the Green Door Shelter to give a place of safety, counselling and referral to victims of gender based violence. Male perpetrators of violence against women are threatened by his work but Lekekela braves the risks.
Profile: Born in Botshabelo, a small town in the Free State Province, Brown Lekekela moved to Gauteng in 2007 to look for formal employment as per his family's expectation. But that was not his calling. He wanted to become a community worker. So he started his human rights work as a volunteer at Vuselela, an organisation championing HIV/AIDS prevention and control. "I was a peer educator distributing condoms door to door in the community, teaching at local clinics, churches and schools on how people can protect themselves from this virus," said Lekekela.
It was during this time that Lekekela realised the deep rooted and entrenched patriarchal and traditional beliefs that led to the marginalisation of women in South Africa, exposing them to diseases and violence.
"Many women would not want to take the condoms, saying they don't have the right to talk to their partners about condoms. Some were saying when they ask their partners to use condoms they are beaten up, some say they will not be supported financially, others that they will be chased away or raped," said Lekekela.
Touched by these stories, in 2011 Lekekela volunteered at the Diesploot Police Victim Support Centre in his quest to achieve justice for victims of gender based violence.
In 2013 Lekekela formed the Green Door Shelter and registered in 2014 as Diesploot Victim Lifeline, to promote gender justice and equality. He has been directing the organisation's operations since then. The Shelter offers help in anger containment, referrals to the police and clinics, and temporary shelter. It also provides food, toiletries and clothing to victims, donates toiletries and sanitary towels to schools in Diesploot and gives talks at churches and schools about the need for gender equality. Through his intervention, and in partnership with other organisations in the area, women and children now know their rights.
As if that's not enough, Lekekela and his team visit bars and taverns to educate men on gender justice. "I talk to men in taverns about gender roles, to change how they were taught about women and children. It all helps, Some men who are good men come out to encourage others to think differently about women and children.
Given the friendly environment at the Green Door Shelter even men facing abuse can now come for referral and counselling.
Fighting for gender justice is not a walk in the park. As a young man fighting for children and women's rights, Lekekela is mocked and threatened by other men, some of them older than him, exposing him to possible attack.
"Some men follow their women when they come for help. Before they understand who am I and what I do, many men try to be arrogant. It is a risk for me every day knowing that there are men who are arrested because I helped their partner to open criminal cases," said Lekekela.
With no sustainable funding, Lekekela makes use of the few resources at his disposal to ensure that the Green Door Shelter continues to operate in Diesploot. While others use extra spaces in their yards to put up tenants and earn money, Lekekela instead uses the back of his yard as a temporary shelter for victims of abuse. He is not employed and he survives by selling jumble.
Gender based violence can occur at any time, day or night. But Lekekela finds time to address the needs of victims, when others would be deep asleep. "People will come at any time to report. Most of the cases take place at night. I have to stop whatever I am doing and attend to them," said Lekekela.
In spite of the challenges involved in his work, Lekekela vows to continue fighting for gender justice and equality. "I am in a stage where I can say I won't stop or quit. I have been doing this job all my youth years. My experience will help in fighting gender based violence," said Lekekela.
In January 2016, Lekekela was honored as "Hero for the month" by LeadSA, a South African civic organization, in recognition of his community development work. Last September, Lekekela was featured by the Mail and Guardian for being among the top 200 young South African civil society activists.