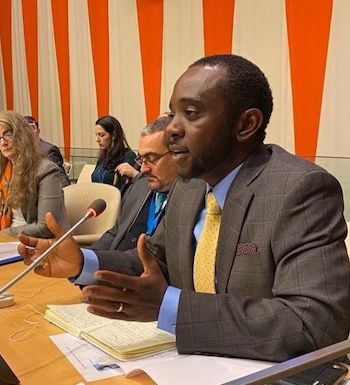 UPDATE FEB 20, 2020
Giraffe Hero Chernor Bah continues to lead efforts to promote girls and young women in Sierra Leone. In October 2017, he launched "Purposeful Productio"—' a non-profit movement-building hub for adolescent girls in the global south. The charity focuses on three strategic areas to support girls and their allies to radically remake the world: insights and influencing; convening and micro-grants; and media and communications.
Bah's work is both global and local. In Sierra Leone, through his organization, he brings activities together into one integrated strategy, creating a ground-swell of girls who can access and imagine new opportunities for themselves and their communities.
On February 11, 2020, Chernor Bah spoke at the United Nations, making an informed case on behalf of girls and young women in Sierra Leone, and asking the world to investment in girls as the heart and soul of peace building. "We need a feminist radical overthrow of power structures to create true peace" he said,. "and girls must be at the center."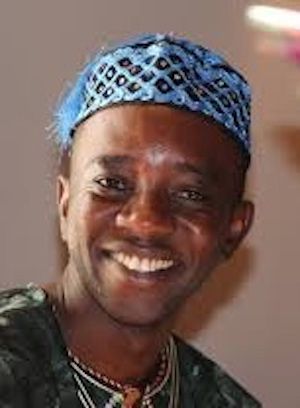 ORIGINAL STORY: Chernor Bah is a Giraffe Hero for his work as a global advocate for human rights and education, as a champion for the rights of girls, and for his brave work in helping combat the recent Ebola outbreak in his home country of Sierra Leone.
At the age of 15, following years of civil war in Sierra Leone, Bah founded and led the Children's Forum Network, Sierra Leone's children's parliament. He travelled throughout Sierra Leone soliciting input from child war survivors. Bah's dream of using these stories to help former child soldiers almost cost him his life when he was threatened by child soldiers under the influence of drugs. But his calmness and focus kept him safe and kept him going. He later presented a report on the impact of the war on children to Sierra Leone's Truth and Reconciliation Commission, vividly outlining child rights violations.
From these post-war experiences, Bah expanded his role to become a global champion for education rights.
After receiving his bachelor's degree in social science from the University of Sierra Leone, Bah was awarded the first-ever youth fellowship at the United Nations Population Fund to work at UN headquarters in New York with the agency's Humanitarian Response Unit. He was then appointed youth representative on the high-level steering committee of the UN Secretary General's Global Education First Initiative and is chair of the initiative's Youth Advocacy Group.
In 2013 he co-founded A World at School, a global campaign to ensure that all children have the opportunity to thrive and learn.
In 2014, Bah received the Voices of Courage Award from the Women's Refugee Commission for his global efforts on behalf of children and youth affected by conflict and the Population Council's "Ideas with Impact" Award for his work on behalf of adolescent girls. He is as co-founder of the Adolescent Girls Learning Circle, a community of more than 280 practitioners and advocates from 24 countries who develop and increase programs that give the poorest and most vulnerable girls in developing countries critical information, a say in their own lives, and a strong network of support. In his own country, in 2015 Bah formed the Sierra Leone Adolescents Girls Network, uniting and supporting the work of over thirty organisations empowering girls through education and improving their access to it.
In May 2014, Bah joined the fight against the Ebola outbreak in Sierra Leone, travelling to the most affected regions in the country helping distribute health supplies, clothes and food. He visited quarantined homes and villages, mostly in rural areas, to help give supplies and hope to those most affected by the Ebola scourge. "I constantly thought about the danger," he said. "Had anything gone wrong, I could have infected not only myself but my five-year-old son and close family."
For some people in Sierra Leone, Bah is a humble child who made it in life against all the odds. To the world, he is more than that. He's a brave champion for a better world and in particular for the rights of vulnerable girls, helping them realize their potential to become productive citizens, not just in his home country, but throughout the world.
"There is hardly a more sure way to 'plan for poverty' than to fail to empower young people or to work with us to build a future that we will own," Bah says. "I'm passionate about using my story to inspire others and to influence policy and action for youth empowerment."
Bah received his master's in peace studies from the University of Notre Dame. His email is cbah@popcouncil.org.