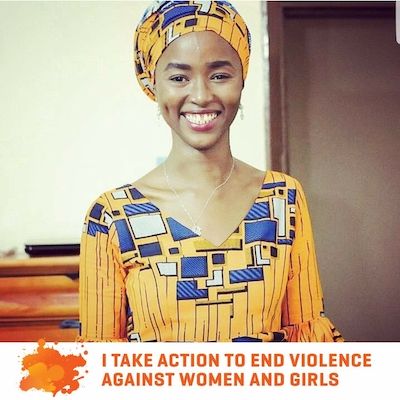 Summary: Diaka Salena Koroma is a women's and girls' rights activist in Sierra Leone, fighting particularly against Female Genital Mutilation (FGM). In 2016 she opened the Girlz Empowered-Sierra Leone to empower less-privileged women and young girls and help them realize their potential. She mentors them on gender-based violence as well as sexual and reproductive health issues. As a result of her work, Koroma has been physically attacked and beaten,
threatened by FGM traditionalists, and deprived of funding.
Profile: Born to a Sierra Leonean mother and Guinean father in Sierra Leone, Diaka Salena Koroma moved to live with her father in Guinea at a very young age. But at age six, after being abused by her father, she fled back to Sierra Leone with her mother. She later attended Fourah Bay College, University of Sierra Leone, where she graduated with a degree in Peace and Conflict Resolution.
Koroma chose Female Genital Mutilation/Cutting (FGM/C) as her dissertation topic. This didn't sit well with her supervisor, who saw the issue as a taboo. She refused to change topics and as a result failed her dissertation. Several years later, she was invited back to the university to try again. This time, she passed.
Koroma started her human rights work with Girl Child Network–Sierra Leone, an organization that supports and promotes empowerment of girls in the home, school, and community, building platforms to advance their rights and freedoms.
"I was an Adolescents Field Officer who mentors adolescent girls in schools and mentors them as well at community levels," said Koroma. It was during this time that she realized the entrenched patriarchal and traditional beliefs that lead to the victimization and violation of young women and girls in Sierra Leone, exposing them to harmful practices and trauma.
"Many women and young girls . . . say that they are mostly tricked or forced by their parents or caregivers into accepting the horrendous experience of FGM/C," states Koroma. "Some say they are even sidelined or marginalized if they dare refuse to go through the traditional rites. Others say that they are referred to as half-women and will be chased away when community activities are held."
In 2016 Koroma formed the Girlz Empowered-Sierra Leone; she has been directing the organization's operations since then. The organization works with girls, their families, and communities, focusing on educational programs targeting awareness of FGM/C, child marriage, and all forms of violence against women and young girls.
Through Koroma's interventions, and in partnership with other organizations in the Sierra Leone, over 5,000 women and girls now know their rights and can make a choice about whether to go through FGM/C.
"I talk to women and young girls in schools, slums, and villages about gender roles and FGM/C, to change how they think and were taught about empowerment and emancipation," says Koroma. "It all helps. Some girls who imbibe our education on FGM/C have made bold decisions not to go through the practice and also encourage others to think differently about Female Genital Mutilation/Cutting."
Many young women who are undergoing pressure from their parents and relatives can now come to Girlz Empowered-Sierra Leone for referral and counseling. As illustrated in the Sierra Leone Demographic Health Statistics report, low education and poverty is the vehicle that carries the prevalence of FGM/C in Sierra Leone. The survey shows that only 13% of women with no education believe that FGM/C should be discontinued, whereas 41% of women with secondary or higher education believe that it should be discontinued. Through its programs, Girlz Empowered-Sierra Leone has increased the rate of enrollment, retention, and completion of girls' education.
Of course, fighting for FGM/C justice is not a walk in the park. As a young woman fighting for women and young girl's rights, Koroma has been physically beaten by men and threatened by other women, including traditionalists who are custodians of FGM/C.
One incident: "On 6th February 2017, marking the international day for Zero Tolerance against FGM, and while on African Young Voices Television, my first TV appearance on FGM, my co-panelists—who were Traditionalists, otherwise known as 'Soweis'—verbally attacked me. 'You come to the provinces, we will cut off your clitoris', they arrogantly taunted."
In July 2021, Koroma was physically attacked along the Lumley Beach area in Western Freetown by two men who beat her for standing up to them. "These young men were seen with teenage girls who were way below the age of sexual consent," Koroma explained. "Before they understood the consequence of their action," she added, "these men became so arrogant and jumped on me with slaps and kicks. It is a risk for me every day knowing that there are men who are agitated by my campaigns because I speak openly against FGM/C."
Koroma also faces financial challenges from government and local donors. With no sustainable funding, she buys and sells off items to make sure she gets resources to keep her campaign alive. In 2017, the former Minister of Social Welfare, Gender and Children's Affairs, Sylvia Olayinka Blyden, stopped a major funding source to be accessed by Koroma and other FGM/C organizations. Being pro-FGM/C, the Minister had no interest in the campaign.
In spite of the challenges involved in her work, Koroma vows to continue fighting for FGM/C justice. "I will only stop this campaign when I am dead and gone. I won't stop or quit. I have been doing this campaign all my youth years. My experience will help in fighting for FGM/C justice."