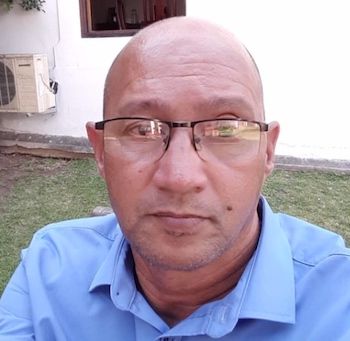 Summary: When COVID-19 broke out in South Africa, Ebrahim Abrahams, a teacher in Kewtown, started using the money he'd saved to buy a car for his daughter as a graduation present to feed the poor and hungry. For him and the family members and community volunteers who help him, that means spending long evenings in dangerous neighborhoods and exposing themselves to the virus as well.
Profile: Kewtown is a poor suburb of Capetown in South Africa. As a teacher at Kewtown Primary School, Ebrahim Abrahams witnesses extreme poverty even in the best of times. Due to the high unemployment rate, students often have nothing to eat at home and many come to school with dirty and torn clothes. So Abrahams began taking action. 'I've sort of become a father figure to many students. I've bought them uniforms and shoes when needed,' said Abrahams.
Then things got worse. When the schools were closed following the government's COVID-19 lockdown measures, Abrahams wondered how hundreds of learners who used to depend on the schools for food were going to survive. 'I knew that I was going to help them,' he says. 'I decided then to feed every child I could in Kewtown. I talked to my family and they agreed it was the right thing to do.'
Initially he had saved R70 000 to buy a car as a present for his daughter's graduation who had just passed her PHD in geology. He wanted her to use the car to travel to and from university. But on seeing the plight of the learners, Abrahams had a change of mind. He told his daughter of his new plan and to his delight the daughter and the whole family supported him in using that money to support the students. 'My family played a big role as they were the only ones with whom I discussed anything. They have always been supportive,' said Abrahams.
So with the help of his family and a few volunteers, he set up feeding points to give food to children five days a week. Initially they were serving 250 hot dogs to children a day. As more and more people wanted food, the feeding scheme was expanded. Initially they were serving children but the program ended up including adults. Abrahams' family started preparing soup, bread and other food for both children and adults. Soon they were distributing 500 meals a day to the community—paid for with the money Abrahams had saved for his daughter's car.
'My wife cooks the food and the whole family prepacks the meals. Since the lockdown started we have prepared about 25.000 meals. This could not have been possible without the assistance of five other community workers from the area,' said Abrahams.
And it was not safe. The demand for food in a predominantly poor community forces Abrahams and his team to even work at night, risking their lives in a community known for gang violence, human trafficking and hijacking. 'The biggest risk is going there at night to cook soup in the blocks,' said Abrahams.. 'The place is infested with gangsters—but no one has interfered.'
And, of course, meeting many people in an attempt to help feed them puts Abrahams and his family and volunteers at risk of contracting the deadly virus, but he soldiers on. 'My biggest worry is taking the virus home, but the thought of the children without food keeps me going,' said Abrahams.
In spite of these risks, Abrahams, like a giraffe, sticks his neck out, sacrificing for the cause of others. He vows to continue working for his people. For example, he's now sponsoring income-generating projects for young people including manufacturing masks and selling them to their community; its a way of providing employment instead of having the kids continue to wallow in poverty and being forced into crime.