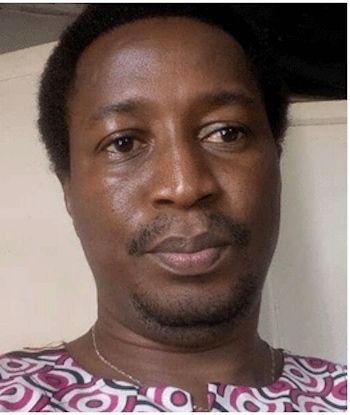 Summary: Outspoken and bold, Sierra Leonean economic justice activist Edmond Abu, Jr., "speaks truth to power," panning government political and petroleum products abuses and supporting human rights. For his efforts he's been labeled a "security threat" and forcefully arrested by the government of Sierra Leone for demanding a decrease in fuel prices across the country.
Profile: Edmond Abu, Jr., speaks for the people of Sierra Leone. And sometimes that means speaking against the government of Sierra Leone.
Abu is the Executive Director of the Native Consortium and Research Centre, a group that advocates for economic reforms and equality. He is one of the few leading economists in Sierra Leone speaking out against the government's inability to resolve the country's political and economic crisis—particularly when it comes to petroleum products.
The majority of the citizens of Sierra Leone rely on petroleum products for a variety of transportation services, not only for themselves but also for the goods they purchase and use. It's the government that determines the prices of these petroleum products, and it's the government that typically hikes prices without any regard to the debilitating consequences it can have on the citizens of Sierra Leone. What Abu wants—and what he has been tirelessly advocating for—is for the prices of petroleum products to be in line with the affordability of the average Sierra Leonean.
The government has not been pleased with Edmond Abu, Jr., and for a variety of reasons. Some examples:
In 2005, Abu wrote an article in a local tabloid about a former government official who was having an affair with "an underage" person. Abu—not the official—was arrested and taken to Sierra Leone's Pademba Road Prison without any charge. He was released shortly after his arrest.
In 2009 and 2010, Abu was advocating for "Nongovernmental Organization Policy" and the freedom to use "civil society media space". He received death threats and fled for a time to neighboring Guinea. "When I came back," he said, "I stopped sleeping in my house for weeks."
On July 17, 2018, Abu addressed a protest march in Freetown, calling for tough actions against the government, which had recently increased fuel prices. He had already issued an ultimatum to government officials: If they didn't reconsider the price hike, then he would stage a peaceful protest. They didn't; he did. Just as he was unfurling a banner describing his position, however, riot police officers arrested him. This time, though, a group of lawyers, activists, and journalists headed to the Criminal Investigations Department Headquarters and demanded that the police release Abu on bail. Their pressure paid off late in the evening when the police agreed and Abu was freed.
This last incident angered many throughout the country. From a press release at the time: "The Society for Democratic Initiatives (SDI) strongly condemns the arrest of Edmond Abu of Native Consortium, who held a peaceful protest over the removal of a government fuel subsidy, which has consequently led to an increase in fuel prices in Sierra Leone from Le. 6,000 to Le. 8,000/ liter. On this occasion, we also want the Sierra Leone Police to be mindful that the right of freedom to peaceful assembly and association can be exercised by individuals, groups, and associations. Participation in peaceful assemblies helps ensure that people have the opportunity to express opinions they hold in common with others and supports dialog within civil society and among civil society, political leaders, and government, as well as being important for the full enjoyment of other human rights."
Abu has been advocating for citizens' rights over many years. One of his first efforts was with a local distillery company named G-Shankerdas and Sons; Abu led the local workers, who were being badly treated by management. Despite being threatened with job loss, Abu ensured that conditions improved. In 2016, Abu led a class litigation against mobile companies in Sierra Leone for reneging on their promises and providing poor service delivery.
Abu sees himself as "an active citizen with love for country and good governance". The government sees it differently. S.B. Mara, a former member of Parliament, has said about Abu: "It's not okay for this economic rights activist to concern himself with politics. If Abu desires speaking ill about politics and politicians, let him establish his own political party; through such action, we can meet at the polls instead of him trying to cause security threats and problems. We will not allow and accept that to happen."
But Edmond Abu is not cowed. Quoting former United States President Abraham Lincoln, he said something that has characterized many of his efforts over the years: "Our life begins to end the day we keep silent about things that matter."