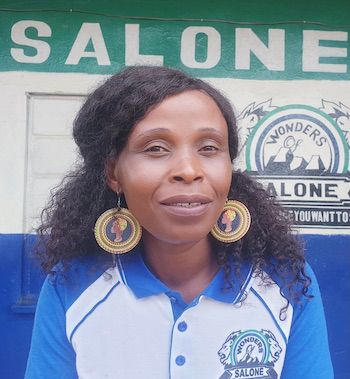 Summary. Elizabeth Kaima is a Sierra Leonean survivor of sexual- and gender-based violence, a social worker, and an activist working for the rights of children and women. She is the CEO and Executive Director of Wonders of Salone, a nonprofit dedicated to advocacy of those rights. She persists in her advocacy despite threats and a traditional tolerance of such violence.
Profile: Elizabeth Kaima has fought for women's and girls' rights for nearly half of her life. By reflecting on her own experiences, she believes she can help change the narrative in Sierra Leone.
Kaima moved to the United Kingdom at a very young age to live with her relatives, leaving all whom she knew back in Sierra Leone. While growing up, she endured extreme emotional, mental, physical, and sexual abuse at the hands of those who were supposed to provide her with care, including a well-known individual within London's Sierra Leone community. That abuse made her feel isolated, broken, and defeated.
"When it started," says Kaima, "no one believed me or thought for a moment to safeguard and protect me, but memories of my biological father and mother back home in Sierra Leone kept me going." She found it very hard to face herself each passing day, but she survived.
Eventually, Kaima decided to do something about such abuse so that girls could learn from her experience and be able to speak up if something similar happened to them. In 2015, she travelled to Sierra Leone and volunteered for months with the Ministry of Social Welfare as a psychosocial support worker. During this period, Kaima heard first-hand testimonies of abuse.
Over the next five years, Kaima continued to travel to Sierra Leone, campaigning for the rights of children and women. In 2018, she started working with the Sierra Leone Foundation for New Democracy (SLFND, www.slfnd.org.), a nonprofit that promotes early childhood education development in rural Sierra Leone.
As Kaima got more insight into sexual- and gender-based violence (SGBV) issues in Sierra Leone, her desire for equality for women and girls grew stronger. In 2020, she founded and began to run Wonders of Salone. "It was my utmost desire," she says, "to contribute to the campaign against SGBV and help provide a voice for women to speak up freely about issues bordering on their growth and mental well-being, considering the fact that male chauvinism serves as an undermining factor limiting women and girls to freely express their views or aspire for better welfare, be it within the public or private sectors, including government."
In the ensuing years, Wonders of Salone has helped to advance women's and girls' rights and also challenge the barriers that block those rights. Kaima focuses on rural women and girls who face serious domestic issues, particularly those who work on farms or in mines. Through her organization and with the help of partners, she educates women and girls on menstrual hygiene and common ways of dealing with SGBV, as well as providing them with menstrual paraphernalia. All this, of course, requires funding: "Doing what I do needs a lot, especially funds to support my programs, so my approach is to invest in agriculture and further use the proceeds from the farm to finance Wonders of Salone."
Wonders of Salone currently has 12 staff, comprises over 500 members, and has provided educational campaigns for over 1,000 women and girls about zero tolerance for SGBV and other forms of violence. One result: "Young women in the areas where I operate can safely now speak up against SGBV and any other form of injustice and also contest the power structure without fear or intimidation."
As might be expected in such a traditionally male-dominated society as Sierra Leone, Kaima's activism has been met with harassment. Her work is seen as a threat to male dominance, especially in her effort to educate rural women and girls on SGBV, which is commonplace in rural communities. Kaima has been threatened by local chiefs and stopped from accessing certain farmlands, which they consider as taboo for a woman to till. In 2022, a group of unknown young men from rural villages raided her farm and carted away a huge harvest, costing Kaima millions of Leones. The men were eventually caught and charged by the Magistrate Court in Eastern Sierra Leone.
Nonetheless, there have been many successes, including the President of Sierra Leone Julius Maada Bio's announcing an emergency on rape amid a public outcry over the issue, triggered by a series of high-profile attacks on minors. The penalty of a guilty verdict is now life imprisonment. Also, in November 2022, Kaima joined other SGBV survivors in relating their personal stories for a 16-day video campaign. She wants to encourage other victims to seek help and to know they aren't alone: "I overcame my ordeal in the UK because there was help available for me though the support of social services and friends outside my community. I was able to survive my experiences through my courage and strength."
And that is why Kaima continues her advocacy, despite the obstacles:
"Our vision is to see a society in which zero tolerance to SGBV is backed by strong laws and opportunities for all women and girls, and to live a life of dignity."