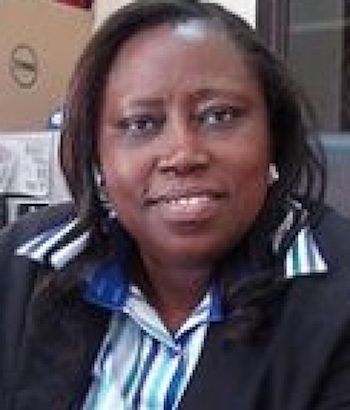 Fatmata Hanciles
Fatmata Claire Carlton Hanciles is a female Sierra Leonean Barrister and Solicitor of the High Court of Sierra Leone. Since her call to the Bar in 1998, Hanciles has devoted her career to promoting women's rights, seeking justice for victims of the war in Sierra Leone and ensuring that the poor and marginalized can access justice. It has not been without risks.
Hanciles began sticking her neck out during the 1991-2002 civil war in Sierra Leone, when, with a few other women, she became a resounding voice defending human rights, including those of war prisoners.
From the beginning of her career, Hanciles has been a strong advocate for rape prevention, sensitizing Sierra Leoneans to the effects of rape and educating people in the communities and hard to reach areas where rapes often take place. "One of the problems about rape is the fact, most often than not, there are no witnesses that will confirm in court that indeed the perpetrators are responsible for the alleged acts" she says. On the other hand, she believes society can be unfair to perpetrators; often judging alleged perpetrators are guilty before even going to court. Hanciles has recently been a key player in the Sierra Leone's First Lady's "Hands Off Our Girls" Campaign.
Hanciles is often verbally threatened by perpetrators of rape but that does not lessen her commitment to dispense justice without fear or favor. This means working tooth and nail to bring rape perpetrators to book for their wicked acts. And it includes a deep commitment to. making the justice system accessible to women who are the most disadvantaged, helping them surmount the socio-cultural barriers they face in accessing justice. She often offers free legal services to women who are sexually assaulted and women who are victims of domestic violence.
It's all part of her commitment to assist vulnerable citizens to acquire justice. As the Executive Secretary for the Sierra Leone Legal Aid Board she has for over a decade led efforts to provide legal education and assistance to poor and vulnerable Sierra Leoneans. She battles the financial challenges that threaten this work as well as the challenges of providing justice to Sierra Leoneans in hard to reach areas.
Women professionals like Hanciles often face significant gender bias in Sierra Leone. She is founding member of the 50/50 Group of Sierra Leone, a non-partisan organization advocating and campaigning for increased political participation and equal representation of women in decision-making processes and initiatives at all levels in Sierra Leone. She is also a member of the Women's Forum, a leading civil society organization which advocates for the rights of women and equal representation for them in all spheres of governance.
Hanciles is a hero, especially amongst generations of Sierra Leonean women and girls.
She holds a BA General from Fourah Bay College, University of Sierra Leone in 1993 and a LLB Honors from the same university in 1996.