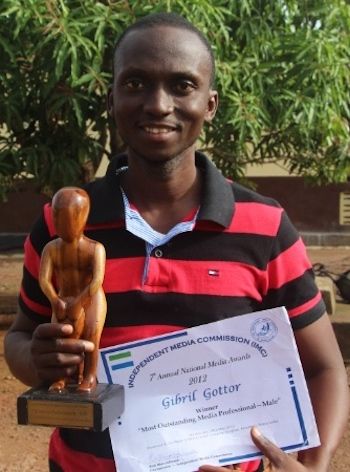 Update April 22, 2022 Giraffe Hero and Sierra Leonean journalist Gibril Gottor has been cleared of all wrong-doing following a review of the three-week prison sentence imposed against him on 19th November, 2016.
In 2015, Gottor had published a piece about corruption in the military, resulting in soldiers going without food, shelter, water, and soap while fighting the Ebola virus outbreak. For this and other reporting about government corruption, Gottor was attacked by other military personnel, left unconscious, and later hospitalised.
But it was Gottor, not his attackers who was charged in court. After lengthy appeals, that conviction has now been set aside.
Gottor, however, continues reporting on government corruption and is not ready to quit. So his security situation remains perilous with no protection from military assailants by the Sierra Leone police in Kambia District, where he lives. In addition, the current governing party leader in Kambia does his best to deny Gottor the civil rights due him as a citizen activist. He continues to be threatened with jail and otherwise suppressed for his unbiased reporting, especially of the government's bungled response to the Covid pandemic.
"I am feeling suppressed and I expect anything bad to be thrown at me, at any time, even at night, due to the role I play in society. I provide for the security of my family—and I currently feel threatened," Gottor says.
Summary. Gibril Gottor is a Sierra Leone journalist who has continually suffered slander, threats, and arrests, as well as assaults so brutal that he has had to be hospitalized at least twice. Gottor contributes reports on the radio and in print, focusing on government corruption and military malfeasance. As a result, military personnel have beaten him up and government officials have fabricated lies in order to keep him from his reporting.
Original Profile. Gibril Gottor was just doing his job. It was 2007, the Sierra Leone People's Party was governing, and Gottor, a young journalist, had reported a story on the radio alleging government officials syphoning off funds meant for a community project. A local politician didn't like the story, called for Gottor's "unconditional expulsion" from the radio, and threatened him, including in calls to Gottor's home.
But Gottor's rocky career was only beginning. He soon understood that reporting the facts had its risks—particularly when those facts concern corruption. "Most of these times," says Gottor, "and during the course of my work, I have been faced with . . . many challenges, threats, and persecutions." He kept at it.
In 2015, Gottor published a piece about soldiers going without food, shelter, water, and soap while fighting the Ebola virus outbreak. He had tried to interview the soldiers' commander about these shortcomings but was rejected. After the piece came out, he was accused of lying and spent three weeks in jail. He later appealed his conviction, which was overturned. Shortly after the court decision, Gottor was ambushed by military personnel and beaten so severely that he had to be hospitalized.
"Had it not been for my family and other relatives who intervened in time," remembers Gottor, "I would have been picked up dead . . . I knew that these guys were sent by the same military commander I had gone to court with."
More arrests have followed, along with more slanders, threats, and assaults—all after Gottor has published stories implicating government officials in illegal activities, for example, customs officers contributing to a smuggling syndicate, helping individuals evade tax at the Gbalamuya customs post, the country's third largest customs revenue source.
Gottor continues his reporting—and his enemies have continued their assaults, not appreciating Gottor's commitment to his job, which has carried him through all these crises and will no doubt support him in the future. In 2016, Gottor was attacked at his home by military personnel, left unconscious, and again hospitalized.
Gottor works now for the Sierra Leone Broadcasting Corporation and is stationed in his home town of Kambia in the north-western part of Sierra Leone near the Guinean border. "The thing that keeps me going," he says, "is my love for the journalism profession. I see this practice as the only means through which I can stand up for others, my country, and its entire citizenry. In Sierra Leone, when you take a critical look at the judiciary and its work, I can clearly state that the media has become the last resort for Sierra Leoneans, so I use my pen and voice to speak for my people."
His brave work is noticed. Gottor was awarded the 'Most Fearless Media Practitioner" award for 2010 by the Sierra Leone Association of Journalists and in 2012 was named "the most outstanding male journalist" in Sierra Leone by the nation's Independent Media Commission.