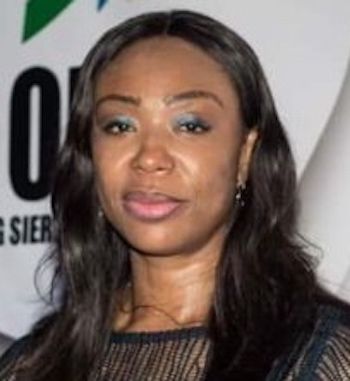 Thumbnail:Hawa Sally Samai is the founder and CEO of Advocacy Movement Network (AMNet), an NGO in Sierra Leone that promotes children's and women's issues, particularly the banning of female genital mutilation, which Samai herself experienced at age 15. Samai has never wavered in her dedication to helping women and children in Sierra Leone. Death threats, political opposition, and the consequences of challenging long-held traditions have not stopped her.
Profile:When she was 15, Hawa Sally Samai experienced female genital mutilation (FGM). The ritual, involving the partial or full removal of the genitalia, has been a common practice in Sierra Leone and considered sacred by much of the population. According to data from the World Health Organization, nine in ten Sierra Leone girls are cut, often with crude instruments such as penknives, broken glass, and razor blades. Some of the girls have bled to death after the cutting.
Samai grew up vowing to change this ritual, and in 2004, further motivated by the sufferings and hardships she witnessed during Sierra Leone's civil war, she created the Advocacy Movement Network (AMNet), a Sierra Leonean NGO that advocates for laws and policies supporting women—and particularly the banning of FGM. Currently AMNet employs over 60 permanent staff, 15 interns, and 117 volunteers. The organization has been amazingly successful and counts clear contributions to several laws in Sierra Leone defending the rights of women and children, including the Sexual Offences Act, the Domestic Violence Act, and the Child Rights Act.
In addition, AMNet includesmany efforts—some supported by Samai's personal resources—to empower and support young girls and women to become educated, attain economic independence and become responsible women. These efforts include:
• AMNet's Child Protection program;
• Microcredit, which focuses on economicstrengthening of care-givers for children affected by child labor;
• empowering children to report about and advocate for child rights etc.; and
• trainings in entrepreneurship. AMNet has trained hundreds of women to manage small businesses throughout Sierra Leone, empowering and supporting them to generate better profits and to send their children to school instead of sending them to sell on the streets. AMNet's trainings give women opportunities to earn an honest living and to provide for both themselves and their children to live lives free of begging, prostitution and early marriages.
Of course, public advocacy of such laws and policies often flies in the face of deep-seated traditions. Advocating and working to stop FGM—a practice traditionally entrenched in tribal societies in Sierra Leone, has been met with stiff resistance. At one point, the "Soweis" (promoters of female genital mutilation) staged a protest against Samai, demanding her head. One of the phone calls Samai received during that time: "We will kill you, bury you, and nobody will know."
Samai is undaunted by these threats—and has triumphed over them: Female genital mutilation was criminalized in 10 out of 14 districts in the country in 2014 and this led to an overall ban in 2019 that became part of the government's Agenda for Prosperity. AMNet now facilitates the monitoring of the ban and the development of relevant bye-laws to implement the policy.
Samai continues with her advocacy. She was part of an important UN-backed global review of harmful traditional practices. In 2015, she and AMNet joined other women's organizations to ask the government of Sierra Leone to adopt the Maputo Protocol, which guarantees comprehensive rights to women, including the right to take part in the political process, social and political equality with men, and improved autonomy in their reproductive health decisions. In addition, she is an international elections observer for the Organization of African Unity (OAU) and for the Economic Community of West African States (ECOWAS), where she was the only female on the ECOWAS elections' fact-finding team. She was also the National Coordinator of the Sierra Leone Women Situation Room for the country's 2018 elections, a body formulated for rapid response on violence during general elections.