UPDATE
IN 2019, Giraffe Hero Ibrahim Tommy is leading a a group of Ebola survivors who have filed suit against the government of Sierra Leone, seeking redress for violation of citizens' rights to life and health as a result of the Government's mismanagement of Ebola funds meant to address the May 2014 Ebola outbreak which claimed the lives of thousands and left many more with ineradicable health challenges. The suit claims that: "The government "failed to adhere to relevant accounting and procurement controls which led to the loss of one-third of the available resources, and was responsible for a greater number of deaths from Ebola than would otherwise have occurred."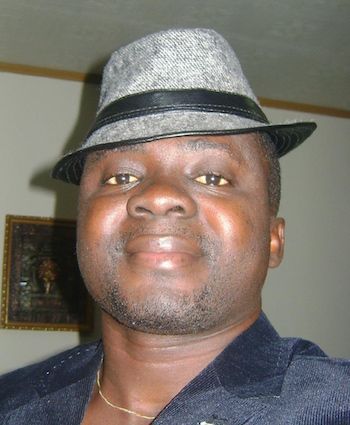 ORIGINAL STORY
31-year-old Ibrahim Tommy has fought relentlessly to secure justice for all in his homeland of Sierra Leone by leading projects promoting accountability and rule of law. He's faced many challenges and made powerful enemies in the process but that hasn't deterred him.
Tommy launched his Centre for Accountability and Rule of Law (CARL) in 2011, starting with absolutely no financial support from anyone. He struggled to find local and international partners to support his work with local communities in carrying out programs advocating for justice on issues such as human right violations, gender discrimination, difficulty in accessing justice and demand for accountability in the financial sector. Often, Tommy serves as a middleman or mediator between the local communities and policy makers.
His advocacy has been key to providing proper funding for Sierra Leone's badly stretched judiciary system (CARL has influenced government to increase the judiciary's budget from 4 percent in 2015 to 10 percent in 2016).
The challenges have been enormous. Tommy started his work as a someone unknown in the public sphere, so it was hard for him to get recognition from the various stakeholders he needed for his project to kick off. Some saw his social initiatives as "political" and this presented a different set of challenges. "It's difficult to undertake a program like this which centers on accountability in the public sector without people raising their eyebrows in the political arena," Tommy says. "It's been a rough path trying to point out the ills of government."
CARL's successes have now led to some funding. To date, the organization has received support from the US and UK governments and other foreign donors and partners.
In 2013, Ibrahim Tommy championed a case on behalf of eleven military personnel who were charged with mutiny against the government of Sierra Leone. His advocacy for a fair trial kicked up serious pressure from the ruling All Peoples Congress Party and Tommy was threatened by the then Attorney General and Minister of Justice who demanded that he back off the case. Regardless of the intimidation and threats, Tommy pursued the case to the end. "At first when these officers were arrested, they were detained over three months without trial and I had to shout to the whole world about a gross human rights violation by my own government," Tommy explained. Eventually the eleven military officers were tried at a Military Tribunal and acquitted of all charges in 2015.
In 2014, CARL was instrumental in getting government to set up the Legal Aid Board--put up to provide legal aid to those who cannot afford it and to give legal education at the local level. Ibrahim Tommy also successfully advocated for the replacement of the obsolete Sierra Leone Local Courts Act of 1963 with a newer version that has made access to justice for those in local communities easier and safer (70 percent of Sierra Leone legal matters are handled at the local Court level).
Going forward in 2016, Ibrahim Tommy and his Centre of Accountability and Rule of Law are engaging government to make the local court system more accessible to rural women in poor communities across the country.
Ibrahim Tommy's ambitions are bigger than Sierra Leone, however, and he's set himself on a track to extend his contributions to the world.