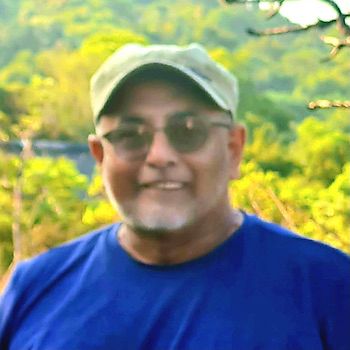 Summary: Imraahn Mukaddam, an entrepreneur, consumer activist, and whistleblower, uses advocacy and litigation to fight dishonest and greedy corporations in his community. Inspired by the Black Conscious Movement and the teachings of the Qur'an, Mukaddam, who started his activism during apartheid, believes in business for collective good and not for individual accumulation. Predictably, his challenging of corporations has come at a cost. He lost his first job, and his business—distributing bread—suffered a heavy blow, culminating in its temporary closure in 2011 after 30 years. He has also been stalked by those who do not appreciate his activism. Nonetheless, Mukaddam continues helping others: In 2018, he helped to found the Inspire Network, which offers young people skills that help them in their careers and their lives.
Profile: Now livng in Elsies, a South African community rocked by poverty and crime, Imraahn Mukaddam was born into an entrepreneurial family in District Six but grew up in Belhar at the height of the anti-apartheid struggle. At the age of 10, Mukaddam became politically conscious after having learnt about the philosophies of anti-apartheid activists such as Steve Biko. Troubled by the injustice of apartheid whilst still in high school, Mukaddam became active in the anti-apartheid struggle. He was forced into sometimes living on the streets, fleeing the brutality of the apartheid security forces. His mother sent him into hiding at her brother's place in Malmesbury. It was when Mukaddam was in Malmesbury that he got his first job as a chicken slaughterer.
As far back as 1996, Mukaddam discovered that the company he worked for was not slaughtering chickens according to Islamic values, yet it served a predominantly Muslim community. When killing animals for human consumption, the Islamic code requires that the name of God be called; company employees were not doing this. A devoted Muslim, Mukaddam reported the company's unethical conduct to the Muslim Judicial Council as well as the media. Six months later, he was fired.
In 2006, Mukaddam, who by that time owned a bread distribution business, challenged the increase in the price of bread by bread producers; the increase hurt the poor most of all and threatened to throw small distributors out of business. So even though Mukaddam's business survived because of the bread supply, he wanted to bring down the price of basic commodities to make things affordable for poor people. There was a legal issue, too: Mukaddam instructed a lawyer to write to all bakeries that increasing the price of bread would violate the Competition Act, and that if they did so, he would report them to the Competition Commission.
Mukaddam did in fact file a report with the Competition Commission. "We took on the bakeries in a class action lawsuit," he said, "and after many setbacks we won the right to pursue a class action against bakeries at the constitutional court in 2013." As a result of the investigation, four companies were found guilty and fined a combined amount of almost R400 million rand.
His suppliers did not take that result calmly. They fired back. Mukaddam remembers what happened:
"I of course suffered for my actions in that I was victimized. My supply was cut and my business went bust. They cut me off completely. But I picked up the pieces and continued to serve my community." And losing money was not the only problem. Mukaddam believed that he was being followed and that private investigators for one of the companies were tapping his phone.
It didn't matter, though: "I am an activist that has a deep passion for social justice. I am involved in a number of civil society structures dealing with issues as diverse as climate justice, crime and violence prevention, to food sovereignty and community media," says Mukaddam. One of the initiatives that Mukaddam leads is the Inspire Network, a nonprofit that he co-founded in 2018. Through the Inspire Network, Mukaddam and his colleagues have launched a number of programs to empower his community.
"We have a youth academy, an online community radio, and we run a GBV Help desk, and we support a number of local feeding schemes. Through our youth academy, we train youth in a number of skills to equip them for the job market, but we also offer life skills to prepare them for active citizenship and adulthood. I have a genuine concern for the environment, and many of Inspire Network programs are focused on raising awareness about the risk of climate change and how to build resilience to its impact. We also have a strong emphasis on community media. We started inspire Elsies Radio and we also produce content for Cape Town TV," says Mukaddam.
Mukaddam recognizes the threats stemming from his work: "I have sacrificed a lot as a result of my activism and my family has suffered enormously, but we survived and we are much stronger as a unit because of the way we had to endure together."