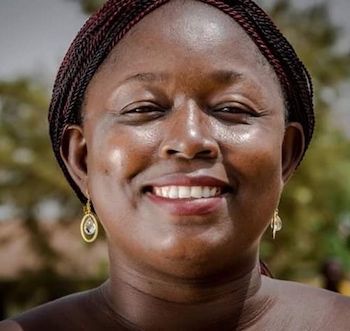 Summary: Jalahan Amara Jakima, from Kenema, Sierra Leone, is an anti-Female Genital Mutilation (FGM) activist helping those forcefully mutilated gain access to counseling, medication, and education. Jakima has been threatened for demanding that the practice must stop and, along with her sisters, was forcefully mutilated herself because of her advocacy. But her work has led to the incidence of FGM in Sierra Leone being cut in half and a new law now calls for consent.
Profile: In a country where many young women and girls are forcefully conscripted into Female Genital Mutilation (FGM)—otherwise known as the "Bondo Society"—proper hygiene during these initiations is not upheld and some of these practices lead to death or long-lasting health hazards. Sierra Leone's laws do not provide a blanket ban on the practice.
Jalahan Amara Jakima has stood out in her attempt to help those young women and girls. Several years ago, Jakima's intervention to save a woman who was forced into FGM ended badly: An older woman, an ardent supporter of FGM, made up a story against Jakima and her sisters, resulting in their being subjected to FGM against their will.
"I remember crying my heart out," remembers Jakima. "It was painful, stressful, and unjust. I felt debased, I felt tortured, and I always felt so bad about it."
Jakima has committed her life to standing up for other girls and women caught up in the injustice of tradition and politics. She now works as a Southeast Programme Officer with AdvocAid, an organization providing access to justice, education, and advocacy for young women and girls.
"Perhaps due to my past experience and passion, it is destiny that united me with AdvocAid," she says.
Jakima has always had faith in education, and she has always admired educated women. She entered the Milton Margai College of Education and Technology (MMCET) at a very tender age. It was a turbulent time for her. Her brothers, who took care of her, were unemployed, but a few older women on campus supported her. She will never forget a comment made by the Minister of Education at a visiting session: He told Jakima that it was good having young girls in school, but that he didn't appreciate young people training to become teachers.
"I dismissed his utterances," recalls Jakima, "while I paid more attention to education."
After college, Jakima returned to her home town of Kenema and began teaching at the Methodist Secondary School, mentoring girls, encouraging them to use contraceptives, and explaining the importance of focusing on their education. Her wise counsel and caution to young women and girls is that "being a wife is not a career." She believes that the secret behind every success is determination, and that girls must work hard, be principled, and set achievable goals. Jakima was also an outspoken member of the Sierra Leone Teachers Union.
Jalahan Amara Jakima remains passionate about human rights and a strong campaigner against FGM: "If we want to be a better people as a country, there are certain traditions, cultural norms, and barriers that we need to break, because people hide behind culture to do bad things to women."