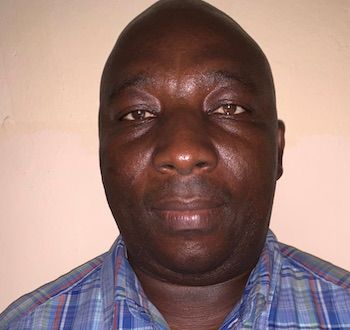 Summary: Jeremy Ben-Simbo is one of the few civil society activists in Sierra Leone campaigning to force the government to honor and implement the promises of civil rights and good government enshrined in the country's Constitution and in manifestos issued by successive governments. He has braved many threats to his safety in order to call out government officials for their lack of support for these rights, and he travels the country, urging citizens to become familiar with them.
Profile: The campaign for civil rights in Sierra Leone has long been a demanding one, with only a few courageous men and women taking the risks to lead it.
One of those people is Jeremy Ben-Simbo, Programs Manager for the Center for Accountability and Rule of Law (CARL), an independent, nonprofit organization which he joined in 2008. CARL's mission is to promote a just society for everyone in Sierra Leone. The organization monitors government institutions for accountability, outreach, institutional transparency, capacity building, and their ability to empower citizens—and it unhesitatingly speaks out against the government's unfair treatment of its citizens.
Ben-Simbo began his career as a civil rights activist in 2007 with another nonprofit, Conciliation Resources, providing advice, support, and resources to people in conflict in order to prevent violence and build peace. Ben-Simbo organized workshops and led discussions in both rural and urban areas, teaching the importance of constitutionalism, peaceful settlement of conflicts, and holding the government to account. He also helped publish reports exposing the cost of corruption in the government sector, including threats to democratic reforms.
Ben-Simbo is determined to succeed: "We, the people of Sierra Leone, cannot fold our hands when our constitutional rights and economic prosperity are under siege," he declares. "CARL will continue to develop reports, based on facts, and make them public so that citizens can be aware, and demand action for reforms from the government.
"We work around the country, raising awareness and educating citizens on the importance of living in peace and safeguarding and defending their Constitutional rights. Many people in the country do not even know about the basic freedoms that are embedded in the Constitution and in the manifesto promises of successive governments. So we tell them; we have decided to be the voice of Sierra Leone."
Ben-Simbo is also the Regional Chairman for Civil Society Organizations in the Southern Province, the body charged with the responsibility for championing civil society activism in the south of Sierra Leone.
"I regard the work of civil society as a passion," he has said. "If you really want money, the civil society space isn't meant for you because in this field, we do largely voluntary work for our citizens."
Ben-Simbo's strong passion for this work over the years fuels his belief that somebody needs to stand up for his compatriots. "Many have been silenced because they lack the integrity to keep going," he says. "Integrity is the currency that runs the Civil Society space. I have been able to do what I do due because of the manner in which I carry myself."
In 2019, CARL published its Corruption Perception Report and Cost of Corruption, which claimed that the police were the most corrupt institution in Sierra Leone, followed by Parliament and the Ministry of Health. The report states that between 2017 and 2019, the country lost more to corruption than was gained in revenue.
The report further revealed that about 70% of respondents surveyed said that poverty, greed, and lack of integrity are the main causes of corruption in Sierra Leone; in addition, 80% of respondents acknowledged that the Anti-Corruption Commission was the most credible reporting channel for corruption. The summary concludes that the government should lessen cash payments as a way of minimizing corruption.
This was not the first time that an independent report has found Sierra Leone's Parliament to be corrupt. A report published by the Campaign for Human Rights and Development International – Sierra Leone (CHRDI – SL) in 2015 found serious levels of corruption in the country's Parliament. Not surprisingly, CHRDI was condemned by parliamentarians. And so was CARL's report, even though it was conducted impartially and represented legitimate responses from citizens of Sierra Leone.
The Parliamentary Department of Public Relations released a statement saying that, despite the CARL report, Parliament was not a corrupt institution. Ben-Simbo and CARL were interrogated by the country's law-making body for making the report public. The intimidation and attacks on CARL by Parliament dragged on for months. CARL's response was that the report simply reflected the views of the people.
Sierra Leone has been stubborn in allowing citizens to express their constitutional rights and Ben-Simbo's campaigns have been dangerous. Many activists have been arrested and physically attacked whilst carrying out their freedom of expression as enshrined in Part Three, Act No.6 of the Constitution of Sierra Leone of 1991.
Ben-Simbo has been threatened with arrests as well as being physically attacked. One of his media engagements at the Sierra Leone Broadcasting Radio in 2018 had to be cut short after a rowdy mob led by an aspiring member of Parliament physically attacked him for condemning a system employed by political parties to support candidates.
"If political parties give their support to undeserving persons who lack the moral ground to serve the people, then the democratic space would have been littered with the wrong people," said Ben-Simbo.
With his focus on holding government to account, it is clear that Ben-Simbo has placed the future of his country ahead of his own well-being. And he shows no signs of adjusting to the pressures he faces. Like Nelson Mandela, he serves as a mouthpiece of the people and cannot shut up.
"This is our country and our welfare," he asserts, "and, as such, I love doing this job."