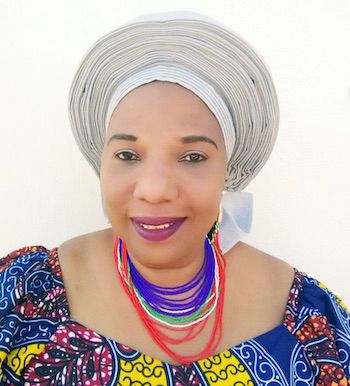 Summary: Liliane Mukidi empowers women through training, capacity building, care, and support in Cape Town's more disadvantaged areas. In 2003, with the help of her colleagues, she founded Umoja, a nonprofit organisation that helps to integrate immigrants, provide skills for women, and alleviate poverty. When the COVID-19 virus broke out, Mukidi began raising awareness and distributing masks.
Both Mukidi and her husband contracted COVID-19 while helping the needy. Both survived.
Profile: Born in the Democratic Republic of Congo to Zambian parents, Liliane Mukidi left that country in 1999 at the climax of a civil war. She describes her narrow escape: "I left Congo due to the fighting between the Congolese (DRC) army and Rwandan soldiers who supported Laurent Kabila in taking over power. I was mistakenly arrested as a suspected Rwandan by the DRC but convinced them that I was not. In those days if they arrested you like that, you disappeared. I fled to Zambia and then came down to South Africa."
Mukidi has always lamented the patriarchal nature of African society that leaves women exposed to poverty and discrimination. On her arrival in South Africa, she was touched by the plight of women and the poor, both locals and immigrants, and she began working to effect positive change.
In 2000, Mukidi began working as a volunteer with a group called Tusimame Wana Wake, which means "Let us stand, women." Through that program she was sent to represent refugees in various places, including conferences, workshops—even parliament. "Then," she says, "I was empowered to start something not just for refugees but for all disadvantage women because I realised that we are all facing the same situation and our common enemy is poverty."
In 2003 Mukidi and her colleagues founded Umoja, which means "unity." Umoja's programmes aim to alleviate poverty and to promote social cohesion and integration of immigrants into South African society; it accomplishes this goal by providing training and facilitating activities that generate income. Umoja equips women with skills—such as sewing, beading, and catering—so that they can prosper in the South African economy.
"Every year," says Mukidi, "we train up to 100 women. Our project is open to everyone."
Umoja also runs a Care and Support programme. Initially designed for foreigners who were facing difficult situations, it has expanded to help everyone in need.
Since the outbreak of the deadly COVID-19 virus, Umoja has been raising awareness and providing masks for communities. It launched a campaign called "Leave No One Behind," which raises funds to make masks and distribute them in locations such as police stations and schools. Volunteers extend the distribution by going to nearby communities, particularly communities with economically disadvantaged residents.
Mukidi's work is not easy. Financially, Umoja has subsisted only on donations and part of Mukidi's husband's salary. "I still don't have a salary," says Mukidi. "It was only in 2019 when we received a grant . . . to buy industrial machines and four months' rent." And in terms of health, both Mukidi and her husband contracted COVID-19 while working on the front lines.
"We were out distributing masks in in Khayelitsha," says Mukidi. "I came back home. I was not feeling well. I thought it was a cold; later it got worse. I lost my appetite and taste. I had a strong fatigue. I decided to go for a test. I was positive, together with many women who were involved in the programme. We created a WhatsApp group to encourage one another. I was treated from home and I survived." Mukidi's husband also survived, after a week in hospital.
Mukidi is passionate about gender justice and poverty alleviation: "Poverty is still our common enemy, something we need to fight at all cost. Africa is our land, and we can make the best of this continent by raising women who can change the prospect of our people regardless of the colour of their skin, their background, or where they come from."