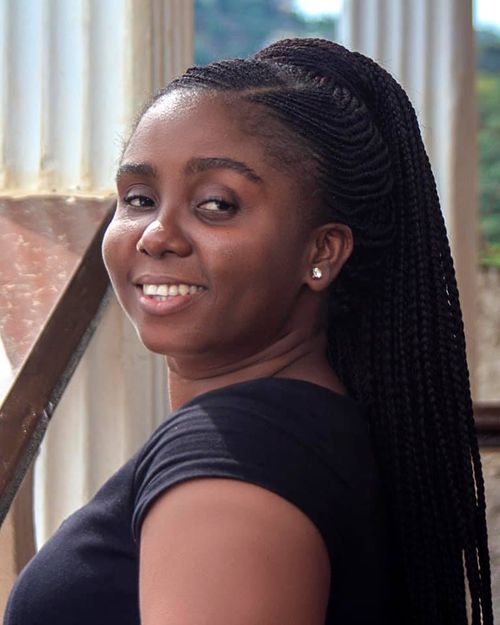 Summary: Mabel Kabba, a young, hardworking, vibrant Sierra Leonean journalist, is the deputy station manager at Radio Democracy in Freetown, Sierra Leone. She's worked her way up in an industry that has a bias against women. She's challenged politicians who have withheld information from her and tried to cajole or harass her to leave them alone. She speaks out on behalf of poor communities throughout the country and risked her life interviewing people during the Ebola crisis. Despite verbal attacks and prejudice, she maintains a reputation of competence, thoughtfulness, and respectability.
Profile: Maybel Kabba's passion for journalism began as a teenager in Dwarzack, one of the most deprived communities in Central Freetown. In this impoverished neighborhood, she yearned for a platform where she could be heard and could ask difficult questions relating to the welfare of the people in that community.
She found one. As a grown-up, in 2013, Kabba joined Radio Democracy, the country's most popular radio station, as a volunteer reporter. A year later, she became a full-time member of the staff. And a year after that, she rose to the rank of Head of News. She is currently a presenter on "Gud Mornin Salon (Good Morning Sierra Leone)," Sierra Leone's most popular daily radio show, heard by 60% of the country, covering critical political and economic issues, including
freedom of the press and better representation of women in the media.
It was in 2014, however, with the outbreak of the Ebola virus, when Mabel Kabba showed that she was in fact an extraordinary journalist. Kabba was determined to let the country know the effects of Ebola, no matter the consequences to her own health. So, without even having access to the Personal Protective Equipment traditionally supplied to staff, she visited Sierra Leone's treatment centers—interviewing patients and medical professionals alike.
"During those times," she recalls, "even to have somebody to talk to on the nature of the disease and how to take precautionary measures to be safe was challenging. The onus to protecting oneself was strictly one's own responsibility." Why did she take these risks? "We needed the international community to know about the debilitating effect of the outbreak on our people, so we needed to brave the odds." She adds, "How I survived those moments still remains a puzzle."
Reporting from the front lines of Ebola may have been the most dramatic and dangerous of Kabba's journalistic excursions, but in some ways it wasn't the most challenging. Getting officials to talk to her, getting them to tell her the truth, and getting them not to take advantage of her are all tough goals to achieve.
"There is no gainsaying that as a female journalist in this part of the world, practicing the media trade is tough," she says. "While it may be challenging for the men, studies and experience show that it is a near-impossibility for women. Whether a politician is in the ruling government or in the opposition, there are lots of things they strive day in and day out to keep secret. And they try to silence people like us who try to speak for the voiceless. Where journalists attempt to expose them, there is always a backlash.
"For women, the pressure can come in the form of asking you out for a date, or showering you with gifts. All of it is just a conduit to keep very good journalists like us mute," she says, "but we continue to reject these gestures."
Kabba has been verbally attacked on the phone and sent wild text messages. Her character has been attacked on social media many times. Once, for example, when she travelled to the United States for a conference organized by the Commission on the Status of Women, she was accused by her opponents of bagging such a prestigious invitation by using sexual favors, when in actual fact, she was sponsored by Action Aid-Sierra Leone, a non-governmental Organization working on post-development progress in her war-torn country.
Since the end of Ebola in Sierra Leone in November 2015, Kabba continues to ask the toughest questions that she believes the ordinary Sierra Leonean do not have the opportunity to pose, something she says rings on her mind anytime she is on set to present a radio program. Since she grew up in a poor community, she's naturally inclined to represent members of those communities, especially when, as she notes, those constituencies most often don't have a voice.
"Despite the threats and character assassination that I wrestle with on a daily basis," she says, "I will not give up on asking the toughest questions on Sierra Leoneans' behalf, because not asking them is tantamount to letting the people down. If I don't talk, I would have deprived thousands of people who want answers to questions that I ask daily on my radio programs affecting communities."
She carries out her task without fair or favor, but with the passion to speak for the voiceless and she is not ready to stop.